Pine Street Colored Cemetery
Introduction
Pine Street Colored Cemetery served as a burial site for African Americans when other local cemeteries were still segregated. It consists of four acres of land donated by John Gee, an African American carpenter, land-owner, and religious leader who invested in multiple buildings in the area. After his wife passed away during childbirth, Gee was not allowed to bury her in the cemetery on Pine Street, leading him to donate land for a "colored" cemetery.
Images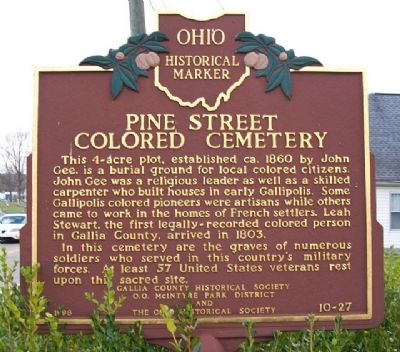 Backstory and Context
John Gee was born in Cincinnati, Ohio in 1798. His mother was a slave, and his father was rumored to be William Henry Harrison, partly justified by the fact that President Harrison did have six children with a slave. During his life, laws were especially oppressive toward African Americans. For example, they were not allowed to have medicine in their houses so they could not "poison whites," forcing Blacks to grow herbs to treat ailments. It was also against the law for African Americans to gather in a public place unless a white man was present.
Though the laws of the city, state, and country worked against him, Gee built much of the city of Gallipolis, where he moved around 1818. First, Gee became a well-known carpenter, building houses that were so well-crafted, some still stand today. He eventually became the largest landowner in the city, building a racetrack and a farm and laying bricks for streets and sidewalks. He was also one of the first trustees of the nearby Bethel Church, renamed John Gee African Methodist Episcopal Church after his death. Moreover, he served as a conductor on the Underground Railroad, helping enslaved African Americans make their way further North in pursuit of freedom.
Gee's first wife, Barbara Stowers, died giving birth to their sixth child in 1842. Because she could not be buried in the all-white cemetery on Pine Street, Gee donated land for a cemetery for African Americans. It became known as the Pine Street Colored Cemetery. Other notable people buried there include Leah Stewart, the first African American to live in the city of Gallipolis, and Phoebe Smith, who established the local Mutual Aid Society, an organization that worked to free African Americans from oppression. At least fifty-seven African American soldiers were also buried there.
Recently, a "welcome" marker in the cemetery sparked controversy. In 2016, the Gallipolis City Commission placed a marker in the front of the cemetery reading, "Welcome to Gallipolis, Old French City. Founded in 1790." Residents complained that the placement was in poor taste. At a town meeting, resident Marlin Griffin explained his objections:
"I feel — and some of the citizens of Gallipolis feel — to put a sign or a marker in this historical cemetery is a travesty. For one, to put this sign five feet from someone's burial grave is a travesty. Two, not even to consult or contact the John Gee Society or any of the African Americans in the city is also a travesty. Three, to have this sign in the making of a headstone to be in this cemetery. Furthermore, is putting signs in cemeteries the thing we are doing now? I feel we have no regard for sacred and holy ground. If this sign can be placed in Pine Street Colored Cemetery, can political signs or digital signs be put in there also? It is a disgrace to not only Gallipolis and the Black community as a whole. I'm standing here to ask the question, 'Why did the city (not communicate) in putting this marker there?'"3
The Commission ultimately agreed to move the marker closer to the street and down an embankment.
Sources
1. John Gee, Hero of Gallipolis. Galia County Chamber of Commerce. February 1, 2017. Accessed March 28, 2017. http://www.galliacounty.org/member-news-blog/720-john-gee-hero-of-gallipolis.

2. Pine Street Colored Cemetery. Ohio History Connection. Accessed March 27, 2017. http://www.ohiohistorycentral.org/w/Pine_Street_Colored_Cemetery.

3. Wright, Dean. Gallipolis Daily Tribune. October 5, 2016. Accessed March 28, 2017. http://mydailytribune.com/news/10144/residents-outraged-by-welcome-marker-in-cemetery.


Additional Information