Eagles Hall
Introduction
This three-story building was designed by William H. Wheeler and John Selmar Siebert in 1917 to house the San Diego Eagles Aerie, No. 244, a fraternal order offering humanitarian aid. Wheeler and Siebert expanded the building in 1934. Around this time, the Eagles were involved in helping people affected by the Great Depression. Moreover, the 1934 enlargement of the Eagles Hall provided jobs for numerous Eagles Lodge members, who were hired to work on the project. This building housed the Eagles for 35 years, from 1917 to 1951. They moved out in 1952, and the Rohr Aircraft Company acquired the building.
Images
Eagles Hall (Jeffrey Beall)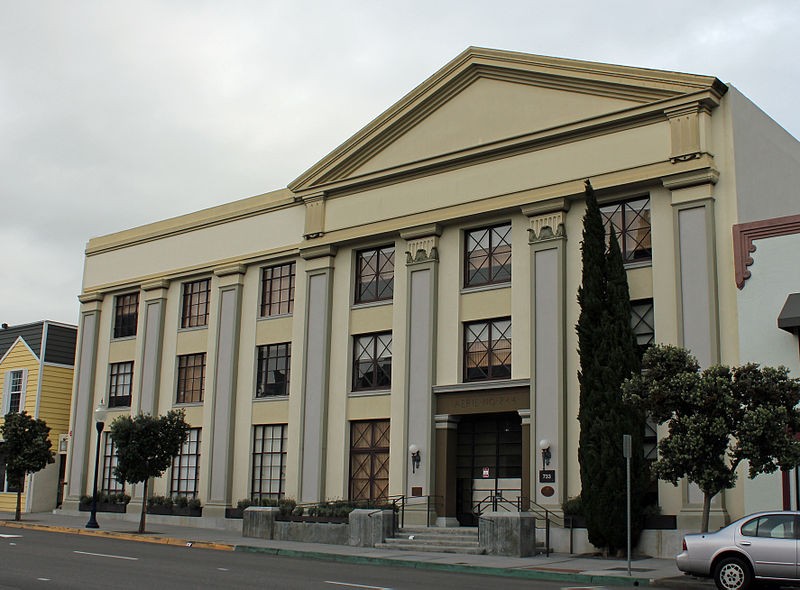 Backstory and Context
The Eagles were a prominent fraternal organization that contributed to a number of causes such medical research and assistance for people in financial difficulty. The Fraternal Order of Eagles was founded in 1898, and San Diego's local Aerie #244 was established in 1902. It became especially important in the 1930s during the aftermath of the Depression. Membership grew dramatically in large part because the organization provided its members with free medical care and funeral benefits in addition to social opportunities.

As Ray Brandes and Milford Donaldson write in the building's nomination to the National Register of Historic Places:

The presence of this structure represents the permanent home of an organization of strength during a time of trial in American social and economic history. This home presents a visual image of the role that a ceremonial/philanthropic organization can play toward aiding the poor and the down-and-out in times of distress. Here the San Diego Aerie Eagles Chapter No. 244 occupied and planned what they would do for the citizens of their community for 35 years. It lies a short distance east of the Gaslamp Quarter National Historic District, where the streetscape is made up of a variety of buildings, some of which themselves have fallen on hard times. The Eagles Hall, by its historical/architectural integrity, however, remains as an excellent example of the concept of American ingenuity in times of stress.


Sources
Brandes, Ray, and Milford Wayne Donaldson. "National Register of Historic Places Inventory--Nomination Form: Eagles Hall." U.S. Dept. of the Interior, National Park Service. March 29, 1985. Accessed March 26, 2017. https://npgallery.nps.gov/pdfhost/docs/NRHP/Text/85002723.pdf.



Additional Information