Sante Fe Depot
Introduction
Constructed in 1915, this historic train station continues to serve as a transportation hub and is known to locals by two names- the Sante Fe Depot and Union Station. The station is one of Amtrak's busiest California stations as well as a bus and trolley stop. The Mission Revival-style facility was designed architectural firm of Bakewell and Brown. The station had fallen into disrepair by the early 1970s but was saved by the actions of preservationists and local citizens. The building was added to the National Register of Historic Places in 1972 and has been preserved and expanded via restoration projects that began in the 1980s.
Images
The Santa Fe Depot, which is on the National Register of Historic Places, is one of Amtrak's busiest California stations.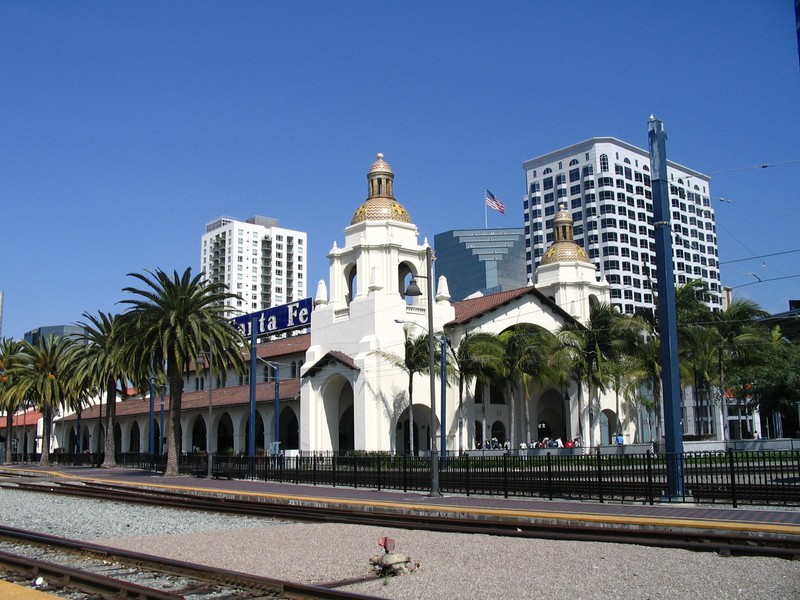 Backstory and Context
The Atchison, Topeka and Santa Fe Railway wanted to replace the structure that had been there since 1887 for the California Southern Railroad Company. Thus the Depot was built. About 15 acres surrounds the building and serves as a mixed-use development. It houses office space, businesses and even the downtown branch of the Museum of Contemporary Art.
The depot was built at a cost of $300,000. Passengers and visitors will note the building's twin domes as well as the palm trees that line the platforms. Inside is a waiting room with a gabled ceiling featuring natural redwood beams supported by two-story arches. Another noteworthy feature of the waiting room is the eight-and-a-half-foot tall wainscot in glazed faience tile. The original oak benches are still in the room.
The station was in decline in the 70s and was nearly torn down. Public opposition saved it, and it was then listed on the National Register. It received renovations in the early 1980s. A plaza with green space and seating was added in the 1990s and the Baggage and Express Building was restored and become home to the art museum. A modern three-story addition was added in 2007.
Sources
National Register of Historic places website, accessed March 23, 2017. http://www.nationalregisterofhistoricplaces.com/CA/San+Diego/state3.html

The Great American Stations website, accessed March 23, 2017. http://www.greatamericanstations.com/stations/san-diego-ca-san/