El Cortez Building San Diego
Introduction
When it opened in 1927, the El Cortez Hotel was the tallest building in San Diego. Designed by the architectural firm of Walker and Eisen, the building is a mix of Mission Revival and Spanish Colonial Revival styles. The building was converted to condos in 2004 and is home to the Sole Luna Café on the ground floor.
Images
The El Cortez is one of San Diego's most well-known buildings. When it was built in 1927 it was the tallest building in the city.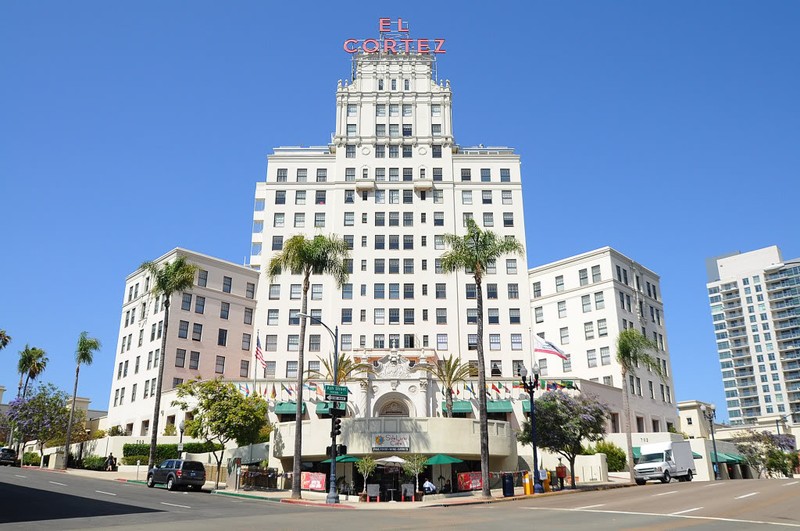 Historic photo of the hotel from the San Diego History Center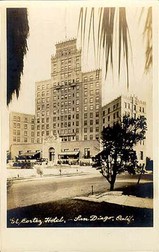 Backstory and Context
El Cortez was built on the site of Ulysses S. Grant, Jr.'s former home at the top of San Diego's Cortez Hill. When it opened, it featured 85 apartments and 32 hotel rooms. The 12th floor of the building was used as a radar station in World War II. It became the first high-rise building in the world with an exterior glass elevator when it was added in 1956.
The building suffered in the 1980s but was eventually restored and turned into 85 condo units and 11 commercial units. El Cortez is also home to the Don Room. It has hosted Presidential events by Dwight D. Eisenhower, John F. Kennedy, Bill Clinton, and Barack Obama. It hosts numerous weddings, corporate functions, and special events.
Sources
Dannecker and Associates website, accessed March 23, 2017. http://www.welcometosandiego.com/buildings/el-cortez-san-diego/#img2

El Cortez Homeowners Association website, accessed March 23, 2017. http://www.elcortezhoa.com

Don Room website, accessed March 23, 2017. http://www.donroom.com/don-room-old/

Additional Information