1890 Martin & Hubbard Creamery
Introduction
Established by Francis M. Martin and Willis P. Hubbard, the Martin & Hubbard Creamery was the first in Cheney, and one of the first creameries built after Washington became a state.
Images
Frank Martin stands outside the creamery that he and Willis P. Hubbard established in 1890.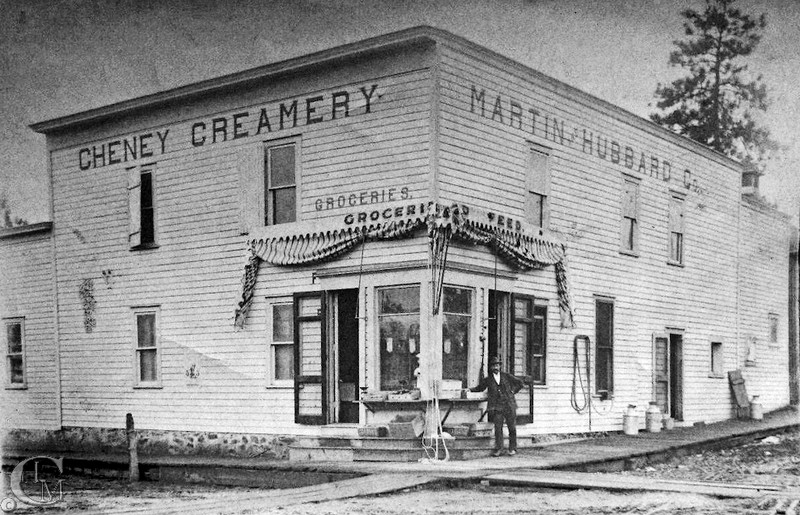 Backstory and Context
Francis M. Martin tried his hand at a number of business ventures including this creamery. In 1890, Martin and Willis P. Hubbard built what is thought to be the first creamery built after Washington became a state. Both men also engaged in other businesses including livery stables and furniture.
For two years, Willis Hubbard was in charge of operating the creamery, but in 1897 Hubbard left the business to open creameries in other towns. Martin hired Frederick Reuter to take charge. Fred Reuter graduated from the University of Wisconsin in 1892 with a life diploma in dairying. He spent a year as head instructor in the Wisconsin Dairying school in Madison. The following year he came west to teach butter-making at the University of Idaho in Moscow. While representing Idaho at a Dairy Convention in Spokane, he met Frank M. Martin. The Martin & Hubbard Creamery was one of the largest creameries in this state at that time, processing 35,000 pounds of milk daily.
In an article about Frank Martin in 1904 the Cheney Free Press said this:
Sometime before the creamery was destroyed by fire Mr. Martin showed unusual business sagacity by selling out his share, engaging in the hay and grain business, and is at present doing a large business in that line.
The date of the fire is unknown at this time, but we know that the was destroyed prior to Fred Reuter opening his Cheney Cheese Factory in 1903.
Sources
Cheney Free Press; History of Cheney; 1904
Tami Parr; Pacific Northwest Cheese, A History; 2013

Additional Information