Tampa Union Station
Introduction
Constructed in 1912 by the Atlantic Coast Line, Seaboard Air Line and Tampa Northern Railroads, Tampa Union Station was designed by architect J.F. Leitner in the Italian Renaissance Revival style. Listed in the National Register of Historic Places, the National Register of Historic Railroad Landmarks, and designated a City of Tampa Landmark, Union Station was restored in 1998 after many years of decay. Now owned by the City of Tampa, the station continues to serve as Tampa's main train station over 100 years after it initially opened to the public.
Images
Historic Tampa Union Station. Courtesy of Friends of Tampa Union Station.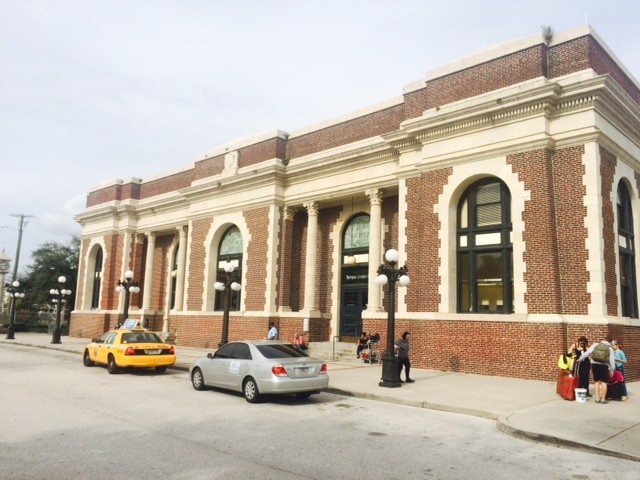 Clerks in ticket office at Tampa Union Station, ca. 1912. Courtesy of Rowe Architects.
1940s postcard of exterior of Tampa Union Station. Courtesy of Friends of Tampa Union Station.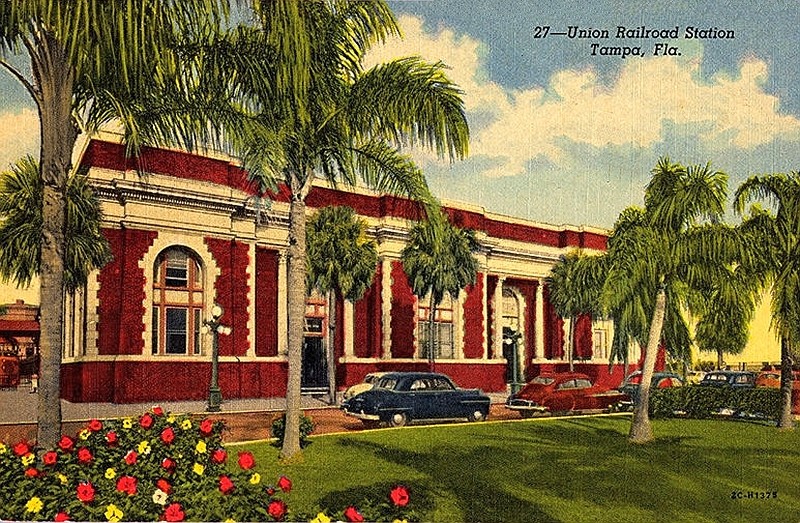 Interior of Tampa Union Station. Courtesy of Friends of Tampa Union Station.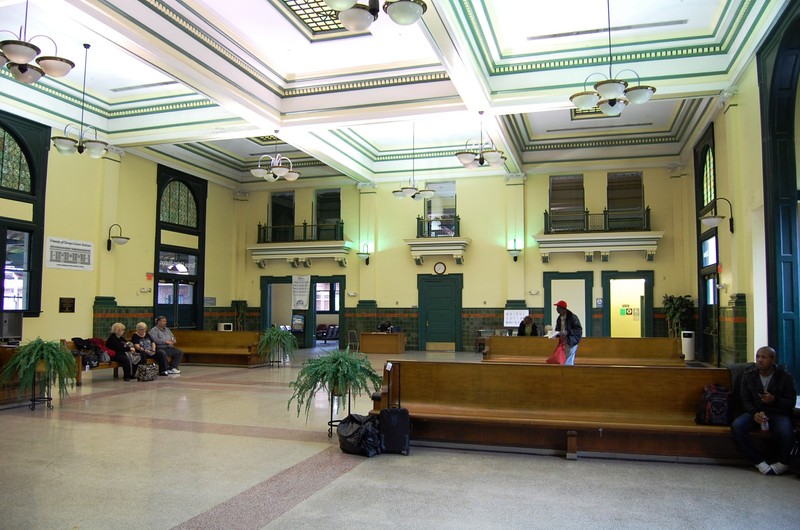 Backstory and Context
Tampa Union Station is one of Downtown Tampa's core landmarks. At one time, Union Station served dozens of trains each day. At present, it is down to just two--Amtrak's Silver Star service northbound and southbound to New York and Miami.
Beginning ca. 1910, Tampa citizens pressed its railroads--the Atlantic Coast Line, the Tampa Northern, and the Seaboard Air Line--to consolidate their train services in a single location Downtown. Each of these railroads maintained different stations at 3 different locations in Downtown Tampa.
Through pressure from prominent citizens--like Tampa Morning Tribune publisher Wallace Stovall--the railroads eventually agreed to build a new station, Union Station, which was completed and opened to the public on May 15, 1912.
At its opening, Union Station consisted of a segregated main waiting room (a wall in the center divided "white" and "colored" passengers), as well as an attached restaurant and baggage building. A detached express building located adjacent to the baggage building handled packages and freight transfers from trains to trucks (all structures remain on site with the exception of the express building, which was demolished in the 1970s).
The station served the public faithfully through the World War II peak of railroad traffic. However, from 1946 onwards the station suffered from a declining number of trains and passengers, much as all railroad stations around the country did.
In 1971, the federal government corporation known as Amtrak took over the remaining trains serving Union Station. By 1977, though, the station was in such disrepair that Amtrak was seeking funding for a new station to be constructed near Busch Gardens. Funding never materialized for the new station, so Amtrak remained in the old building until 1984, when the condition of the station forced Amtrak to exit the building for a temporary station--a prefabricated building located behind the main station building.
In 1998, after many false starts, a station restoration led by a grassroots group of citizens who formed Tampa Union Station Preservation & Redevelopment, Inc., successfully completed a multi-year restoration of the station. Concurrently, the building was donated to the City of Tampa by rail company CSX, the corporate descendant of its original railroad owners.
In May 2012, Tampa Union Station was placed on the National Register of Historic Railroad Landmarks by the National Railway Historical Society on the occasion of the station's centennial.
Today, the nonprofit group Friends of Tampa Union Station raises funds and awareness for the station, including fundraising efforts for an endowment fund at the Community Foundation of Tampa Bay which helps with upkeep of the structure.
Sources
McQuigg, Jackson. Tampa Union Station. Dover, NH: Arcadia Publishing, 1998. ISBN 0-7524-0461-X

History of Union Station. Friends of Union Station. Accessed March 23, 2017. http://www.tampaunionstation.com/.
Additional Information