The Heritage Building
Introduction
This five story building was completed in 1904, a time when Seattle's economy and population was booming. The building's original owners, the Pope and Talbot Lumber Company, demonstrate the importance of the lumber industry to Seattle's economic development. Thanks to investments in railroads and infrastructure, many industries and workers chose Seattle over San Francisco and other West Coast cities. In addition to natural resources, Seattle offered a perfect location for businesses who wished to ship goods to Asia and Alaska.
Images
The Heritage Building, photo by Joe Mabel.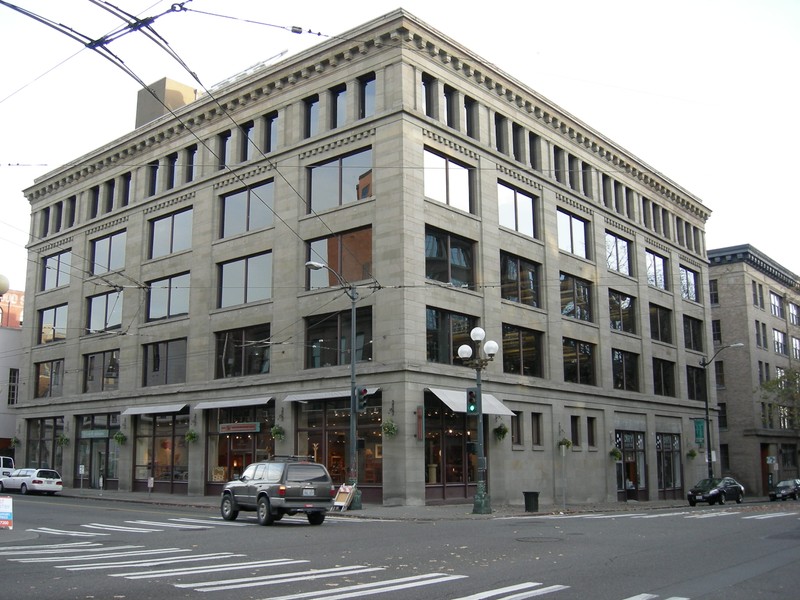 Backstory and Context
The Heritage Building, built in 1904, demonstrates the growth of the lumber industry in Seattle and Tacoma. The number of lumber industries more than doubled in Seattle during the first decade of the 20th century, employing greater than 2,300 workers by 1914. The rapid transition of Seattle from frontier town to metropolis included an expansive railway boom, which made Seattle a prime location for those looking to ship lumber to points East.
After many of the forests in California had been exploited, lumber industry leaders looked towards Seattle and the Pacific Northwest. Lumber companies looked to make their fortunes by exporting lumber to such places as China, Australia, and Alaska. The industry facilitated greater investment in road and railway construction and led to the growth of cities throughout the region.
Two of the lumber industry's tycoons involved William C. Talbot and Cyrus Walker, owners of the Pope and Talbot Lumber Company, who purchased the lot in 1899 that would become the Heritage Building in 1904. The company owned the building until 1943. The Heritage Building, entirely clad in stone, is a five-story building with a full basement that is noted or its simplicity and unity of its classical design. In 1982, a restoration project helped return the building to its historical appearance.
The building stands as a monument to Seattle's rapid growth in the late 19th and early 20th century, as well as the prosperity provided by shipping timber. Seattle grew, largely in part, due to gold rushes in the Yukon and Alaska, but the subsequent population and economic booms can be attributed to investors choosing Seattle as a prime location for railways, shipping, banking, and of course, lumber.
Sources
Berner, Richard C. Seattle, 1900-1920: From Boomtown: Urban Turbulence, to Restoration. Seattle: Charles, 1991.

Cox, Thomas R. Mills and Markets: A History of the Pacific Coast Lumber Industry to
1900. Seattle: University of Washington Press, 1974.


Seattle.gov: Seattle Department of Neighboorhoods. "Summary for 101 S Jackson ST. Seattle Historic Sites." Accessed March 21, 2017. https://web6.seattle.gov/DPD/HistoricalSite/QueryResult.aspx?ID=-976529160.
Additional Information