Womack Army Medical Center
Introduction
The Womack Army Medical Center is a military hospital under the command of the United States Army located on post at Fort Bragg, North Carolina. The hospital was originally called the Camp Bragg Base Hospital and was the first brick and mortar medical facility to be constructed on what was formerly known as Camp Bragg (now Fort Bragg). Presently named after Army Private First Class Bryant H. Womack, a native of Mill Spring, North Carolina, for his heroic efforts during the Korean War, the original site of the Camp Bragg Base Hospital is now the Bastogne Gables neighborhood and the present establishment is located just east of Ryder Golf Course. This medical facility currently treats approximately 200,000 soldiers, family members, and otherwise eligible patients annually in the largest beneficiary population in the United States Army.
Images
Womack Army Medical Center West Entrance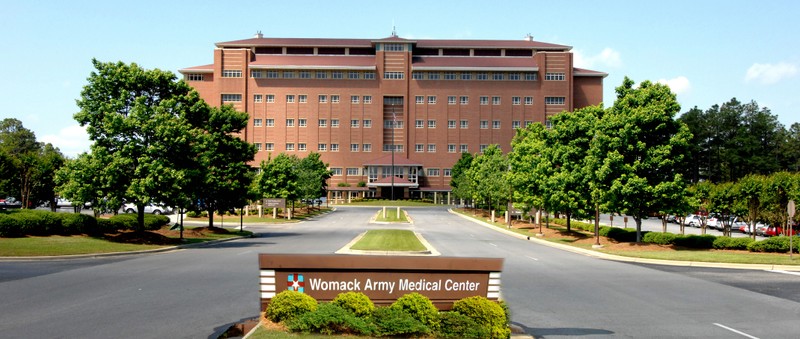 Gravesite of PFC Bryant H. Womack, the North Carolina native and combat medic whom the Womack Army Medical Center is named after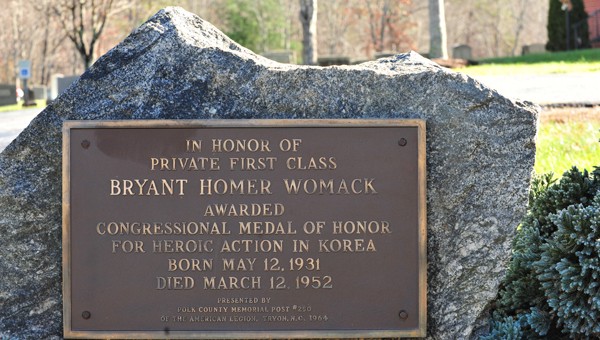 Backstory and Context
Established in September of 1918, the 'Base Hospital' at what was formerly known as Camp Bragg (present-day Fort Bragg) in North Carolina, was originally designed to serve United States Army soldiers and their families and consisted of 22 total different buildings. The facility contained two dispensaries, one headquarters and 500 beds set aside to aid those injured at, what the time, was established as an artillery training post.
In June of 1932, the original hospital was retired and a new three-story treatment facility was constructed and was named the USA Station Hospital One. This new hospital, although state-of-the-art, modern and well-equipped, was much smaller than the original Base Hospital, containing only 83 beds to serve the entire post's population of approximately 2,500 soldiers. Hospital One served the base well for most of the 1930s, however, after the population continued to slowly grow to 5,500 by 1939, the decision was made it was time to build yet again. This building is currently serving as Headquarters for the XVIII Airborne Corps at Fort Bragg.
By February of 1941, the Quartermaster Corps had built two additional buildings, appropriately named USA Station Hospitals Two and Three, this time well prepared for the increasing population. Hospital Two contained 1,680 beds and Hospital Three housed 1,002, adding an additional 2,682 beds to the entire base to care for the incessantly rising population. These buildings were located north of Reilly and Pelham Streets and were connected by a covered walkway. By 1949, all of Fort Bragg's medical facilities were moved to the site of USA Station Hospital Two and was renamed simply the U.S. Army Station Hospital.
A few years went by and the once new Army Station Hospital began to once again, succumb to the rising population of approximately 100,000 soldiers by the end of World War II. It was time for the base hospital to be rebuilt yet again and in May of 1955, ground was broken to prepare for the construction of what would be known as the Womack Army Community Hospital. This treatment facility was named after North Carolina native and Medal of Honor recipient, Private First Class Bryant H. Womack for his valiant efforts as a combat medic during the Korean War.
The Womack Army Community Hospital opened its doors for the first time on August 3, 1958 and contained 500 beds - the exact same number of beds in the original Camp Bragg Base Hospital. The facility was 9-stories tall and added the Ambulatory Patient Care Annex in March of 1974. On October 1, 1991, was renamed the Womack Army Medical Center and remained standing for 40 years as Fort Bragg's primary treatment facility.
One year after its renaming, ground was once again broken at the new and current site of the Womack Army Medical Center on September 3, 1992. By March 9, 2000, construction of the state-of-the-art, $400 million, 1,020,359 square-feet medical campus was completed and a dedication ceremony was held at the east entrance of the complex. This campus currently covers 163 acres of wooded land and is home to specialists from all over the country.
Sources
Womack Army Medical Center, (No Date), Our History, Retrieved from: http://www.wamc.amedd.army.mil/AboutUs/SitePages/Our%20History.aspx.
U.S. Army Fort Bragg, (No Date), Fort Bragg History, Retrieved from: http://www.bragg.army.mil/index.php/about/fort-bragg-history.
Additional Information