R Budd Dwyer's Suicide
Introduction
R Budd Dwyer, Pennsylvania's State Treasurer, was indicted for receiving $300,000 in kickbacks to help Torquato secure the business. He denied the charges and refused to resign. In 1986, Dwyer was found guilty of racketeering, bribery, fraud and conspiracy. He wrote President Ronald Reagan asking for a pardon the day before his press conference. Budd read a statement while handing out envelopes to staffers. He then pull out a .357 Magnum revolver, placed it in his mouth and shot himself in front of the press.
Images
Moments before R Budd Dwyer shoots himself.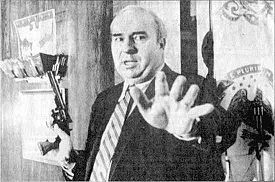 Backstory and Context
R Budd Dwyer was the 30th Pennsylvania State Treasurer. In the early 1980s, Pennsylvania was found out that the state workers were paying too much in federal taxes due to errors with state withholding. Accounting firms competed for million dollar contracts to compensate employees. Dwyer was convicted of receiving a bribe from the California firm; the trial would have been held January 23, 1987, the day after his suicide. He claims that he was innocent and was being framed. January 22, 1987, R Budd Dwyer held a press conference and killed himself on live television with a .357 Magnum revolver.
Sources
"25 Years Ago Today, Pennsylvania's Treasurer Shot Himself on Television." Mental Floss. N.p., 22 Jan. 2012. Web. 21 Mar. 2017.
"R. Budd Dwyer." Wikipedia. Wikimedia Foundation, 20 Mar. 2017. Web. 21 Mar. 2017.




Additional Information