Keating Hotel Building
Introduction
The Keating Building, now home to a luxury boutique hotel, was built in 1890. Fannie Keating led the effort to design and build the structure as a tribute to her late husband, George J. Keating. The couple had moved to California from Kansas in hopes that the region's climate would help the ailing George Keating. The couple made a significant fortune with their business which provided farm equipment, and they were looking forward to spending more time together in their new home. Unfortunately, George Keating died just a couple years after moving to San Diego. The building's top floors were home to a number of offices for attorneys and local companies while the first floor held the city's public library from 1901 until 1903. Keating's name remains at the top of the building.
Images
The Keating Building features a steam-powered elevator that was the first and still longest-running in San Diego.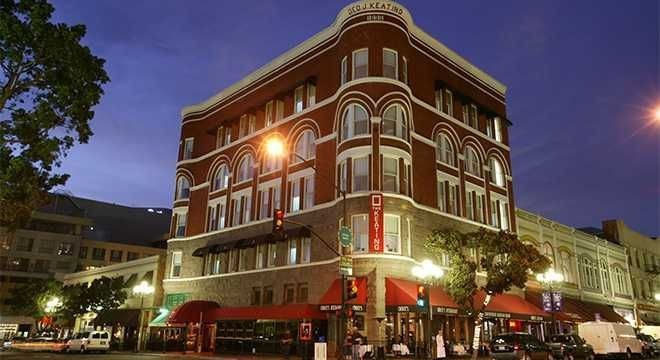 The building under construction in 1890.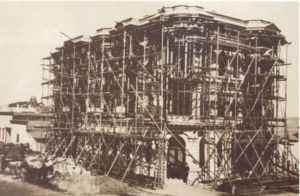 Backstory and Context
The building was designed by the Reid Brothers and is five stories in a Romanesque Revival style. The Keating was one of the most ornate buildings in the city at the time of its completion, leading to many of the city's attorneys and professionals. The building was also home to the San Diego Public library prior to the completion of their building at 8th and Avenue and E Street which served as the home of the library until the completion of their current building in 2013.
The Keating Building was home to the first elevator in the city. Today, this elevator is the only steam-powered elevator in the region. The elevator made headlines and led many of the leading attorneys and professionals to desire an office in the top floors of the Keating Building. The building served as office space for Henry Lord Gay, the founder of the American Institute of Architects. T.J. Sloan, a famous photographer, also maintained an office at the Keating Building among many of the leading professionals in the city.
Today the hotel is owned by Pininfarina, the Italian design team responsible for Maserati and Ferrari. It was their first endeavor into the hospitality industry. The Keating Hotel is the first hotel project for the company.
Sources
Gaslamp Quarter Historical Foundation website, accessed March 20, 2017. http://gaslampfoundation.org/virtual-tour/keating-1890/

The Keating Hotel website, accessed March 20, 2017. http://www.thekeating.com/about


Willhoit, Sandee. Everybody loves a lover. San Diego Downtown News. Accessed March 23, 2017. http://sandiegodowntownnews.com/everybody-loves-a-lover/.


Additional Information