Our Lady of Fatima Catholic Church
Introduction
Established on October 22, 1951, Our Lady of Fatima still thrives in the Southeast community of Huntington, maintaining a 1,400 member Parish family. With the adjacent Catholic School, the parish also provides education for many elementary and middle school aged children, nurturing their spiritual upbringing while maintaining the spiritual health of their families. The Church actively holds community dinners to support the parish, such as the Lent Fish dinner and the annual Spaghetti dinner in which parishioners volunteer to provide a family/community meal. The Church is not just a center for worship, but a place where friendships and bonds are forged.
Images
Sign welcoming parishioners to the church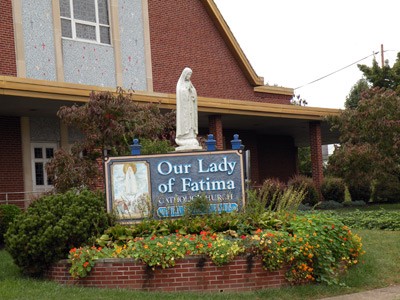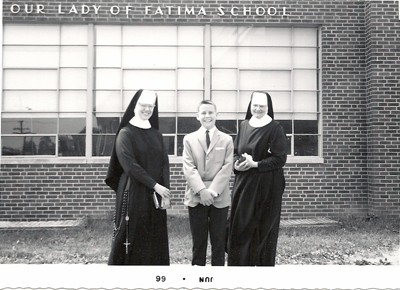 The temporary church structure before remodeling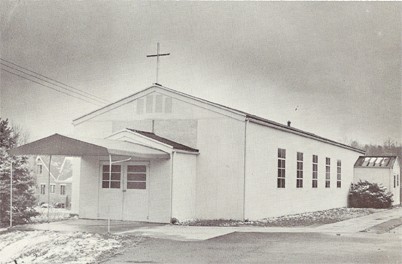 Backstory and Context
During the 1940s, groups of Huntington citizens began moving toward the South East side of the city, thus a demand for community establishments grew as the population migrated. In 1950, Archbishop John J. Swint began devising plans for a Catholic Church on Norway Avenue to accommodate the rapid population growth. Due to the need for community centers, a temporary church was built to serve until the official construction of the current church could begin. Parts of the finished church were installed as previously used pieces from previous churches and was founded from the mother church of St. Joseph Catholic Church on 6th Avenue.

The first mass of the new parish was held on December 2, 1951 at the temporary church and accommodated some 200 families in the vicinity. The construction of the grade school was launched March 15, 1953 and open September 7th of that year. Six grades and 90 students soon became eight grades and 140 students. As the parish doubled, the temporary church was no longer large enough and four additional lots of land were purchased by the Roman Catholic Diocese of Wheeling. The funds needed for the new plans for the church were raised by the parishioners; renovations and additions, including a Parish Hall, school gymnasium, and library, were undertaken until the church and school were completed in 1984. Today the church and Parish community are in full swing, with a beautiful statue of the Virgin Mary gracing the entrance of the chuch.
Sources
History. Accessed 3/15/1017. http://olofps.org/sample-page/history/.

http://www.ourfatimafamily.com/staff.html.