Historical Marker: Chambers Transfer & Storage Company Building
Introduction
Now Maricopa County's technology office, this historic building was originally a warehouse for the O'Malley Lumber Company, which had it built in 1923. The historical marker is located on the corner of the building on Jackson and 4th Street. The building is the only known one designed and constructed by the Phoenix-based T.B. Stewart Construction Company. The city purchased the building in 2006. When it was built, the building was just one of several warehouses in the immediate area, which became an important commercial hub as it was the only place in the state where the Southern Pacific and Santa Fe Railroads met. Commercial activity flourished, helping Phoenix grow to the size it is today.
Images
The marker describing the history of the building, which was constructed in 1923.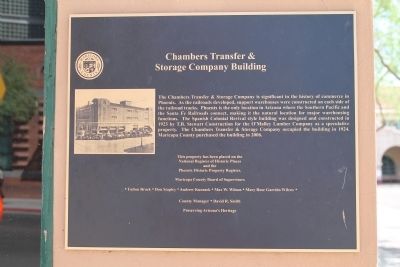 The Chambers Transfer & Storage Company Building, now the county's technology office.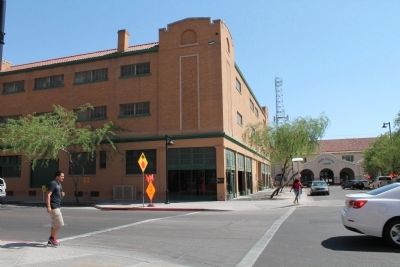 Sources
"Chambers Transfer & Storage Company Building." The Historical Marker Database. http://www.hmdb.org/marker.asp?MarkerID=73076.

"Chambers Transfer & Storage Co." Arizona State Historic Property Inventory. September 4, 1985. https://npgallery.nps.gov/GetAsset/9556f978-ae3a-417b-9f38-8b98f817103e.
Additional Information