St. Mary's Basilica
Introduction
St. Mary's Basilica is home to the oldest Catholic parish in Phoenix. Construction began on this site in 1880 and is Phoenix's second oldest Christian congregation; the first one being the First Presbyterian Church, founded in 1879. The current church building, which was declared a basilica by Pope John Paul II in 1985, was built in two stages. The first occurred between 1902-1903 when the basement was built. This area served as the church until the rest of the building was constructed from 1913-1914. It was designed with a Moorish Revival style exterior (with some Romanesque features) and a Romanesque style interior. The basilica features the largest number of stained glass windows in the state and an organ containing 1,337 pipes that was installed in 1921. The basilica was placed on the National Register of Historic Places in 1978. The schedule of Masses and Gift Shop hours are listed below.
Images
Saint Mary's Basilica was built in 1914 and declared a basilica in 1985. Photo: Wikimedia Commons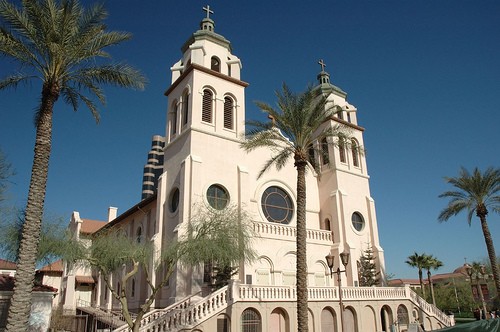 View of the interior during Christmas Mass in 2016. Photo: Saint Mary's Basilica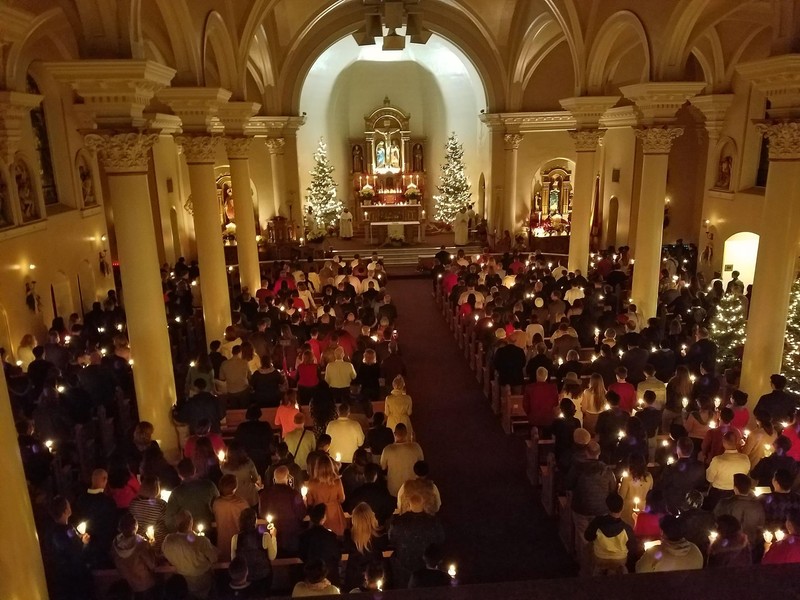 The statue of John Paul II. Photo: Thomas Chris English, via The Historical Marker Database
Backstory and Context
Catholic liturgy was practiced in a private residence from 1872 until the first church was built in 1881. That church as a simple single-story adobe structure. It proved to be too small by 1902 and so it was clearly time for a bigger building. The basilica is the state's only one. In 1987, Pope John Paul II visited the basilica. A statue of him commemorating his visit stands just outside the building in the adjacent park.
Sources
"Basilica's History." St. Mary's Basilica. Accessed March 14, 2017. http://saintmarysbasilica.org/basilica-history.

"St. Mary's Basilica." The Historical Marker Database. Accessed March 14, 2017. http://www.hmdb.org/marker.asp?MarkerID=64854.

Wilson, Marjorie. "St. Mary's Church." National Park Service - National Register of Historic Places Nomination Form. November 29, 1978. https://npgallery.nps.gov/GetAsset/39ea90bc-671d-4b6c-82fa-3948b9a62c5d.

Official Website, St. Mary's Basilica, accessed August 17, 2017.
http://saintmarysbasilica.org/


Additional Information