Camp Chase and Confederate Cemetery
Introduction
Created on farmland outside of Columbus, Ohio, Camp Chase began as a training facility preparing Ohio volunteers for the battlefronts of the Civil War. As Union victories led to increased numbers of Confederate prisoners, Camp Chase expanded operations to include the incarceration of thousands of Confederate enlisted men. More than 2,000 Confederate soldiers died at the camp, victims of malnutrition, exposure, and disease. In addition to the many rows of peaked white marble headstones, two memorials commemorate the men who died at the camp.
Images
Historic photo of Camp Chase during the war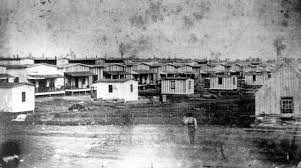 onfederate Monument, Camp Chase Confederate Cemetery Courtesy of the Department of Veterans Affairs, National Cemetery Administration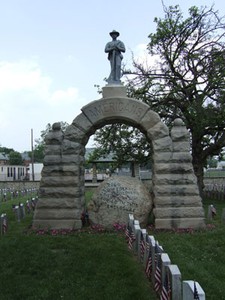 Backstory and Context
Named after Salmon Chase, Camp Chase's creation was authorized by the federal government in 1861. It became an area of training for Union troops preparing to battle Confederate troops. It also served as a military prison. The first prisoners were members of the Twenty-Third Virginia Regiment. These prisoners were captured in the Kanawha Valley of Virginia, an area now West Virginia. Prisoners visiting Camp Chase were mostly from western Virginia and Kentucky. Camp Chase mostly imprisoned low ranking prisoners. However, Virginian born, and Kentucky politician Richard Henry Stanton was briefly held at Camp Chase.
Intrigue occurred as the prison continued to serve the Union. Knauss's The Story of Camp Chase has a chapter called The Great Conspiracy. It discusses a raid. The newspaper The Crisis was a newspaper for Copperheads. Copperheads were northerners that supported the south A supposed Confederate prison rebellion is discussed. This chapter also features other conspiracies and mentions the Knights of the Golden Circle.
Most Civil War prisons were known for their harsh living conditions, and Camp Chase was no different. Certainly, like other prison camps, soldiers are first and the prisoners would eat if there was anything left. During the summer of 1863, the prison population rose to over 8000 imprisoned Confederate soldiers. This many people in a small area led to problems. With a smallpox outbreak occurring, the winter of 1863 and 1864 was very difficult on the prisoners. This outbreak led to the deaths of hundreds of prisoners. During the war, over two thousand prisoners died.
The camp was closed at the end of the Civil War. Camp Chase was disassembled. The part that remained was the Confederate prison cemetery. More than 2000 soldiers were buried in the cemetery. In 1902, a new wall was built around the cemetery. Additionally, a statue and memorial arch was erected. The cemetery is located at 2900 Sullivant Avenue.
Sources
Knauss, William. The Story of Camp Chase. Nashville: Publishing House of The Methodist Episcopal Church, 1906. Ohio History Central. n.d. http://www.ohiohistorycentral.org/w/Camp_Chase?rec=662 (accessed December 1, 2013).
Additional Information