Sentinel Peak ('A' Mountain)
Introduction
Located on the western side of Tucson, Sentinel Peak, which is a large hill overlooking Tucson, has long been an important feature of the area's cultural history. For thousands of years, Native Americans, and later European and American settlers, used the hill to lookout for intruders. The peak is also referred to "A" Mountain for the large stone letter 'A' built by students of the University of Arizona in 1915. They built the A to celebrate the football team's victory over Pamona College. The point on the map is the location of the A. Below it is a historical marker describing the significance of the peak and its history. Just to the south is another marker commemorating the peak; this was erected by the local chapter of the Daughters of the American Revolution in 1933. The peak is now a park and their are roads and trails leading up to the summit. At the base of the peak below the A is a walled garden recreated after the one established by Father Eusebio Francisco Kino in the 17th century. There, visitors will find a wide variety of crops representing the Native American, Spanish, Chinese, Mexican, and Territorial-Anglo cultures that have influenced the region.
Images
The 'A' as seen from a distance. It was built in 1915 by University of Arizona students after a football team victory over Pamona College.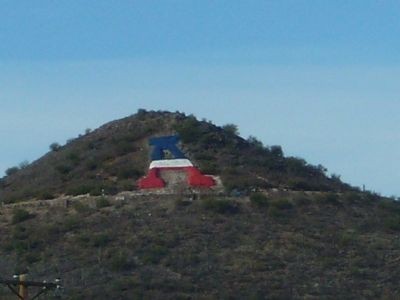 This marker is directly below the 'A'. A corresponding one in Spanish is next to it.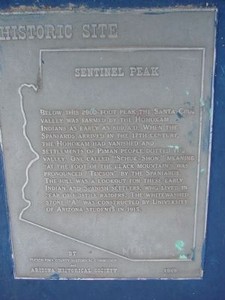 This is the monument installed Daughters of the Revolution in 1933. It's just a few feet from the other marker.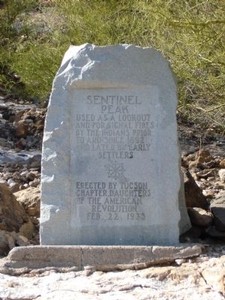 The view of Tuscon from the peak.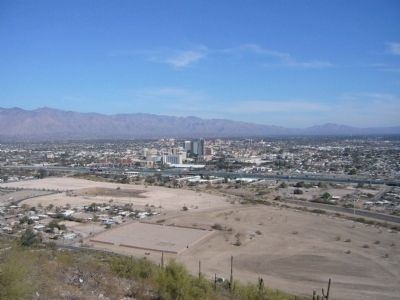 Backstory and Context
When the Spanish arrived in the 17th century (Father Eusebio Francisco Kino was the first known European to encounter the area), they encountered the O'odham Indians who called themselves "Schuk-Shon." The Spanish pronounced this as "Tucscon" and this became the name of the city.
Sources
Davis, Tony. "Sentinel Peak Park gets an upgrade." Arizona Daily Star. Aug 5, 2013. http://tucson.com/news/blogs/desertblog/sentinel-peak-park-gets-an-upgrade/article_84089f78-fe05-11e...

"Sentinel Peak." The Historical Marker Database. Accessed March 13, 2017. http://www.hmdb.org/marker.asp?MarkerID=83216.
Additional Information