Andrew Johnson National Historic Site
Introduction
Andrew Johnson National Historic Site includes a visitor's center, the early home of the former president, the homestead he maintained for 24 years, and a national cemetery. There is also a replica of Andrew Johnson's birthplace and a statue of him. Johnson became president after the assassination of Abraham Lincoln and was in office during the first 4 years of Reconstruction. He is known for accommodating former Confederates after the war, ignoring the violence and fraud perpetuated by former slave owners against former slaves, and being the first president to be impeached. Historical displays throughout this National Historic site generally focus on Johnson's rise to the presidency from humble and harrowing circumstances.
Images
Visitor's Center at the Andrew Johnson National Historic Site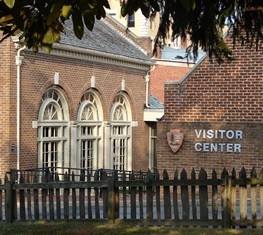 Andrew Johnson's Homestead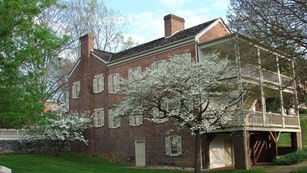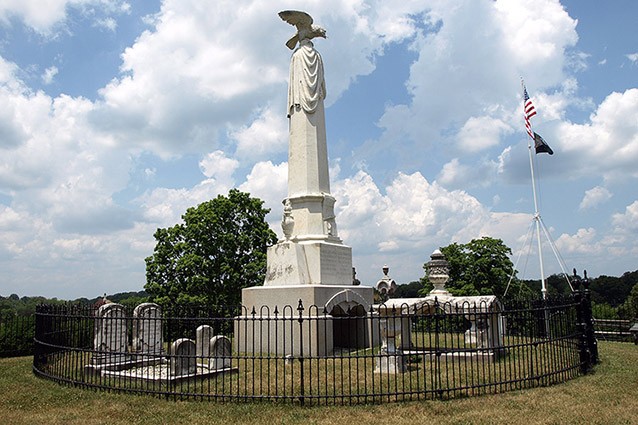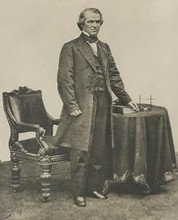 Andrew Johnson Cemetery in 1908, prior to becoming a veteran cemetery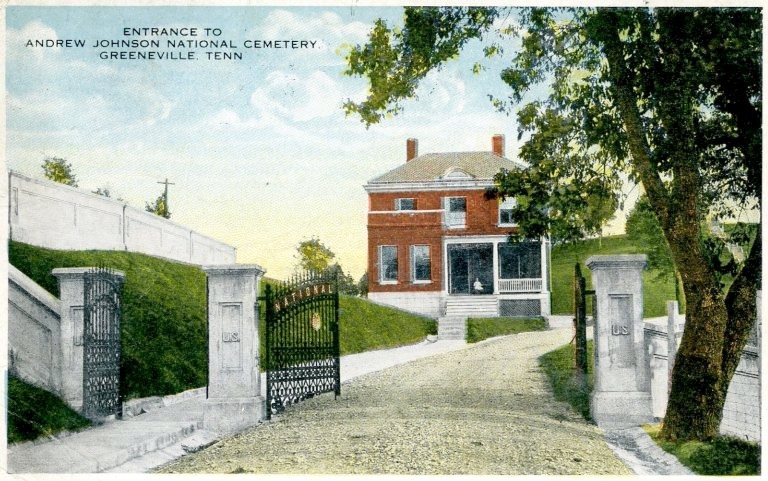 Backstory and Context
The Andrew Johnson National Historic Site is located in Greenville, TN, a town named for Revolutionary War general, Nathaniel Greene, and once home to Davy Crockett. Greenville was also home to Andrew Johnson who served as the 17th President of the United States after the assassination of Abraham Lincoln in 1865. Prior to becoming president, Johnson was the son of a poor family who later became a tailor's apprentice. Johnson began his own tailoring business after moving to Greenville from Raleigh, NC with his mother in 1826.
Johnson had no formal education and learned from his wife, Eliza McCardle, who taught him after their marriage in 1827. After building a successful tailoring business, Johnson was elected to his first political office in 1829 when he began serving as alderman of Greenville. This was the first of many offices Johnson would hold including being a member of the House of Representatives, a Senator, Military Governor of Tennessee, Vice President, and President.
After being elected as Vice President in 1964, Andrew Johnson was thrust into the office of the president after Lincoln's assassination. Johnson quickly began Reconstruction despite Congress being out of session. Johnson was criticized by northern contemporaries for his attitude toward former Confederates as he pardoned anyone who took an oath of allegiance to the Union. The only exception were the rich and Confederate military and political leaders; these men had to bid for a presidential pardon of which Johnson issued many. The former Confederate states had also begun issuing harsh laws known as "Black codes" against former slaves and violent acts against African Americans were frequent.
When Congress was back in session, they passed the Civil Rights Act of 1866 despite Johnson's opposition. The act gave African Americans citizenship and the 14th amendment to the constitution, passed shortly after guaranteed all citizens equal protection under the law.
In 1867 Congress passed the Tenure of Office Act to keep Johnson from dismissing appointed officials with out the consent of Congress. Despite this law, Johnson dismissed Edwin Stanton, Secretary of War. This action gave Johnson's northern opponents the ammunition needed to begin the process of impeachment. Though the House of Representatives did vote in favor of the impeachment, Johnson was narrowly found not guilty by one vote when tried in the Senate in 1868. Johnson left office the following year and would later return to serve as a Senator.  
The Andrew Johnson National Historic Site includes a visitor's center with information on tours and the history of the park. Visitors may also see Johnson's homestead where he lived before and after his presidency. The home was also used as a hospital during the Civil War and was renovated when the Johnson's returned. Tours and exhibits at the park focus on Johnson's early life and term as president; there is an underlying focus on Johnson's journey from poverty to presidency. The Andrew Johnson National Cemetery is the resting place of President Johnson and his descendants. The cemetery has also been a burial ground for veterans since 1909. The surrounding town of Greenville also has many landmarks and tourist stops for those interested in Andrew Johnson, the Civil War, and Reconstruction. 
Sources
Freidel, Frank, and Hugh Sidey. Andrew Johnson, The White House. Accessed May 26th 2020. https://www.whitehouse.gov/about-the-white-house/presidents/andrew-johnson/.
History.com Editors. Reconstruction, History. October 29th 2009. Accessed May 26th 2020. https://www.history.com/topics/american-civil-war/reconstruction#section_2.
History & Cutlture, National Park Service. February 5th 2020. Accessed May 26th 2020. https://www.nps.gov/anjo/learn/historyculture/index.htm.
The Impeachment of Andrew Johnson, National Park Service. March 2nd 2017. Accessed May 26th 2020. https://www.nps.gov/anjo/learn/historyculture/impeachment.htm.
Overview of Andrew Johnson's Life, National Park Service. April 22nd 2020. Accessed May 26th 2020. https://www.nps.gov/anjo/learn/historyculture/overview.htm.
A Short History of the National Cemetery, National Park Service. August 26th 2019. Accessed May 26th 2020. https://www.nps.gov/anjo/cemeteryhist.htm.
Image Sources
https://www.nps.gov/anjo/index.htm

https://www.nps.gov/anjo/index.htm

https://www.nps.gov/articles/550094.htm

https://www.nps.gov/anjo/learn/historyculture/index.htm

https://www.nps.gov/anjo/cemeteryhist.htm

Additional Information