Loews Don CeSar Hotel
Introduction
Opening in 1928, Loews Don CeSar Hotel welcomed the Jazz Age and was home to industry, sports, entertainment, and much more. Al Capone and FDR were guests at this hotel. Also, the 'Forever Mine' movie was choreographed at this hotel, which featured actors/actresses Ray Liotta, Gretchen Mol, and Ralph Fiennes. Many other films, such as 'Thunder in Paradise' and 'Once Upon a Time in America', were filmed at this location as well. The New York Yankees utilized this hotel during the Great Depression for three years of their training. Upon the death of Thomas Rowe in 1940, who purchased the Loews Don CeSar Hotel, the American Army took possession of the building to convert it into a military hospital. William Bowman became the building's new owner and began revamping the grounds, which reopened as a hotel around 1973. By 1974, the hotel was listed in the National Register for Historic Places.
Images
Front-facing view of historical hotel.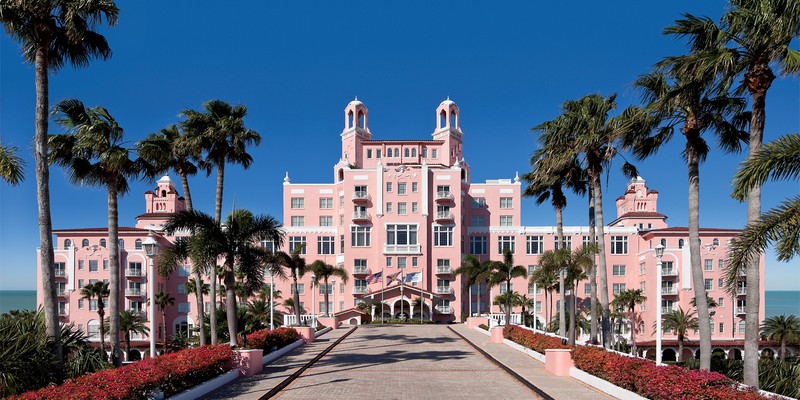 Poolside view of rear-side of building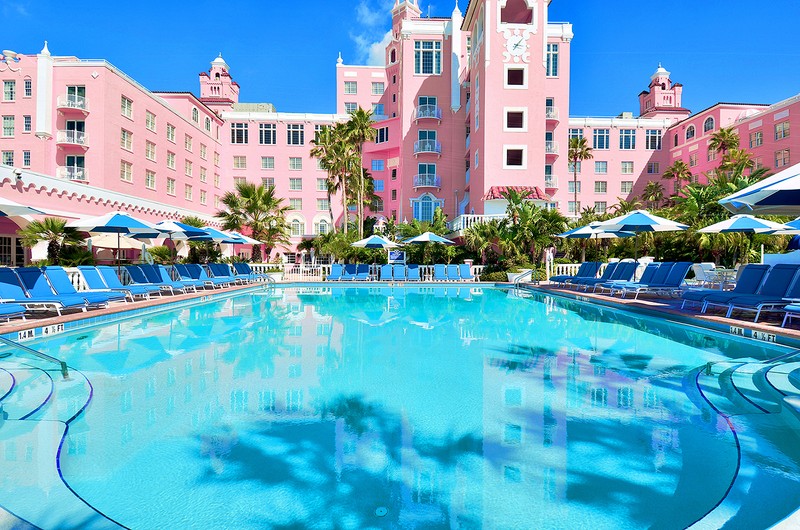 King Charles Ballroom--extravagant interior design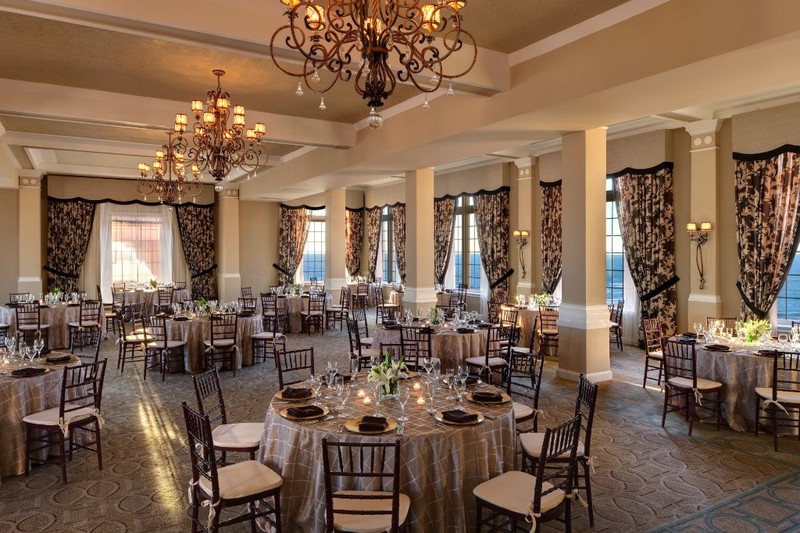 Backstory and Context
The Loews Don CeSar Hotel was named after Don Ce-Sar from the opera "Maritana", which was produced by Vincent Wallace. It was purchased by Thomas Rowe, which included 80 acres of land. Due to Rowe's goal of creating a pink castle, the hotel is nicknamed, "The Pink Castle". Alongside of Rowe, was his appointed architect, Henry Dupont, and contractor, Carlton Beard. To ensure the strength of the hotel against the sand and water, Beard constructed a floating pad to create the foundation. On January 16, 1928, the hotel opened to the public in the wake of a Jazz age that was influenced by a desire for entertainment, politics, sports and industry.
There were many circumstances that resulted in changing the current conditions of the hotel. In 1940, Thomas Rowe passes away and, in the midst of World War II, the American Army takes over the hotel and transforms it into a military hospital. Later, it becomes home to the Air Force staff, and a year later, it is repainted to resemble military colors, such as shades of green. After the Air Force utilizes the hotel grounds, the Veteran's Administration assumes control of the building. In 1969, the building is in dire need of improvement and William Bowman purchases the building and repairs it for 7.5 million dollars. By 2012, the hotel was fully modernized and remodeled.
There were many celebrities, films, and sports teams that visited the Don CeSar Hotel. For instance, FDR, F. Scott Fitzgerald, and Al Capone were all guests of this hotel. The New York Yankees were also affiliated with this hotel, as they vowed to spend three years at the hotel during their training. Robert Di Niro, James Woods, and Tuesday Weld filmed their production of 'Once Upon a Time in America' at the hotel's location. Tom Petty and the Heartbreakers choreographed an MTV production at this hotel as well.
There is a broad range of activities, features, and tourist attractions that are associated with the Loews Don CeSar Hotel. For example, there are 277 guestrooms, which include thirty-six suites and two penthouses. There are three restaurants, which include Maritana Grille, Chef's Table, and Sea Porch Restaurant. There are two bars, which are Lobby Bar and Sunsets Tequila Bar. Other amenities include outdoor pools, yoga classes, lounge, gift shop, and a fitness center.


Sources
History. The Don CeSar. January 01, 2017. Accessed March 10, 2017. http://doncesar.com/our-hotel/history.

The Don CeSar. tripadvisor. January 01, 2017. Accessed March 10, 2017. https://www.tripadvisor.com/Hotel_Review-g34606-d85782-Reviews-The_Don_CeSar-St_Pete_Beach_Florida.html.

Don CeSar. Wikipedia The Free Encyclopedia. February 23, 2017. Accessed March 10, 2017. https://en.wikipedia.org/wiki/Don_CeSar.

Loews Don CeSar Hotel. Historic Hotels of America. January 01, 2017. Accessed March 10, 2017. http://www.historichotels.org/hotels-resorts/loews-don-cesar-hotel/history.php.


Additional Information