Hotel Syracuse (Marriott Syracuse Downtown)
Introduction
Constructed in 1924 as the city's grand downtown hotel, Hotel Syracuse boasted six hundred guestrooms and an ornate ballroom. The hotel was designed by William Stone Post of the New York City architectural firm George B. Post and Sons. At the time of its opening, Hotel Syracuse made headlines for offering private restrooms and other modern amenities for each of its guest rooms. Among the exterior features of the building are three towers that were designed to resemble classical columnns. Like many grand downtown hotels, Hotel Syracuse saw declining reservations as more guests arrived in the city by car instead of arriving at the downtown rail station. The hotel closed for a number of years to allow for a complete restoration and re-opened as part of the Marriott Chain in 2016.
Images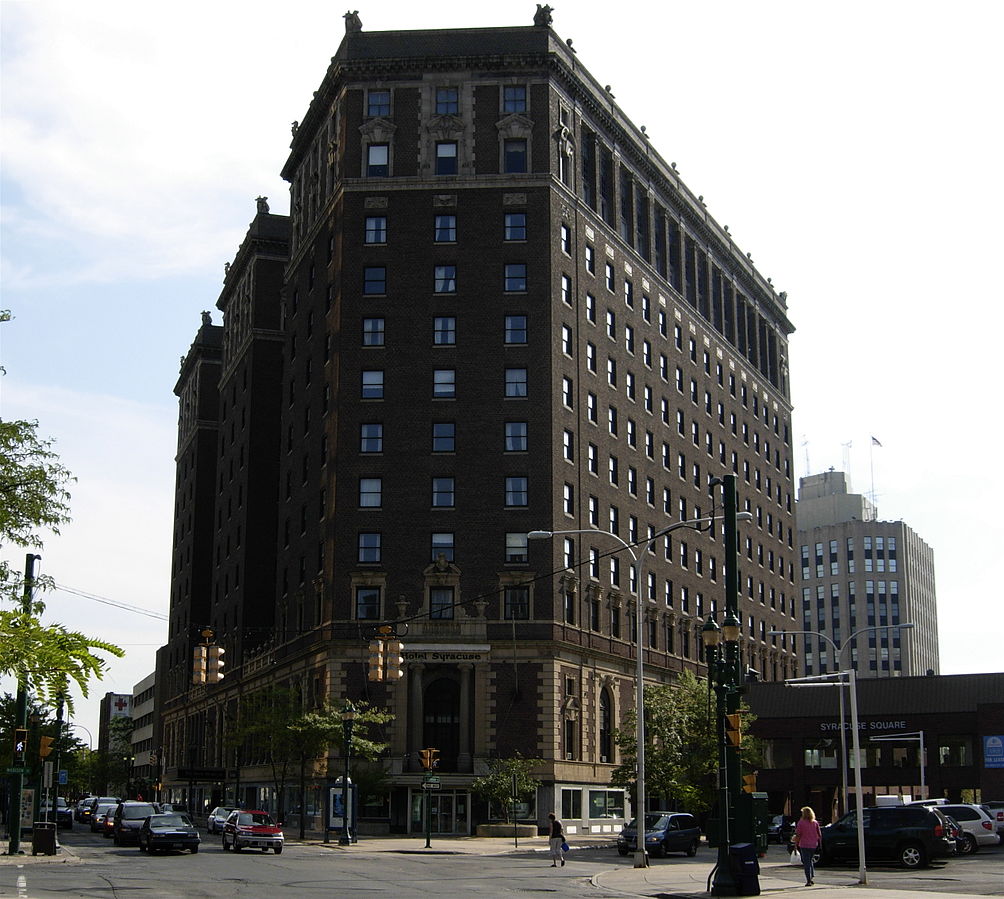 Historical view of hotel.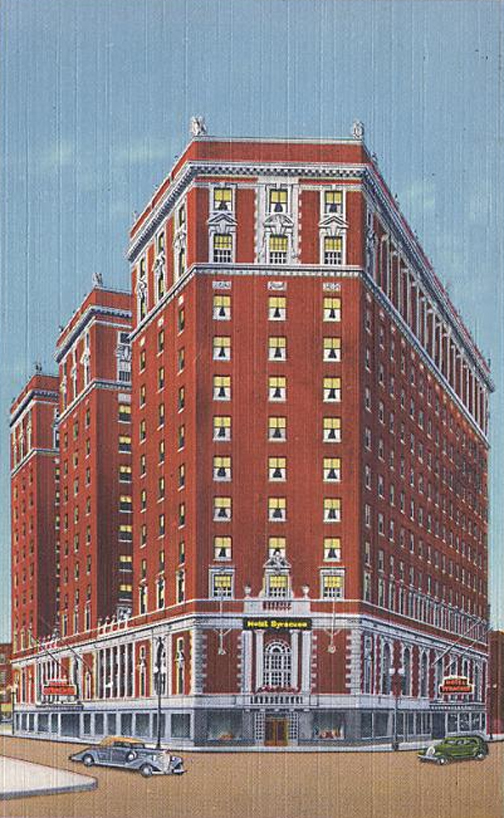 Backstory and Context
At its opening in 1924 this hotel was the height of opulence. It cost six million dollars to build. In addition to the hotel rooms, it included a coffee shop, barber shop, beauty salon and drug store. One of the highlights was the ballroom. It was decorated in tones of light and dark gold. The ceiling was painted with a faux skyscape and its location on the tenth floor meant that there were incredible views out of the windows.

After many years of financial struggle the hotel closed in 2004. It went through several owners before being purchased by Ed Riley of Pyramid Hotel Group in 2014. The renovation cost 70 million dollars and reduced the room count from 600 to 261. It reopened as the Marriott Syracuse Downtown in August of 2016.



Sources
Hotel Syracuse. Syracuse Then and Now. Accessed March 10, 2017. http://syracusethenandnow.org/Dwntwn/Columbus/HotelSyracuse/HotelSyracuse.htm.


History. Marriott Syracuse Downtown. Accessed March 10, 2017. http://marriottsyracusedowntown.com/history/.


Onondaga Historical Association. Checking in to the Hotel Syracuse. Syracuse. September 14, 2014. Accessed March 10, 2017. http://www.syracuse.com/living/index.ssf/2014/09/checking_in_to_the_hotel_syracuse_-_the_week_in_his....



Moriarty, Rick. First Look at Restoration of the Hotel Syracuse's Magnificent Grand Ballroom. Syracuse. May 31, 2016. Accessed March 10, 2017. http://www.syracuse.com/business-news/index.ssf/2016/05/first_look_at_restoration_of_hotel_syracuses....

Both photos are in the public domain.


Additional Information