Dennis-Newton House
Introduction
This house was built c. 1868 as the home of Norman Dennis, a laborer and mason involved in founding the first African-American lodge of the Odd Fellows in Elmira, New York. His daughter Lula (1859-1928) married Edward Newton (c. 1856-1932), who worked at Cornell University's Psi Upsilon fraternity house. At the time, Cornell's black students had no designated place to gather for studying and socializing. In 1905, the Newtons filled this need by hosting a group of African American Cornell students in their house. This group would become the Alpha Phi Alpha fraternity only a year later--one of the country's first black fraternities. The house belonged to members of the Newton family until 1982 and now belongs to a private owner.
Images
The Dennis-Newton house (Preservation League of New York State)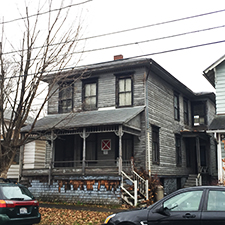 Backstory and Context
Alpha Phi Alpha chapters soon emerged at other universities, offering additional social opportunities to African American men. Members include: W.E.B. Du Bois, Thurgood Marshall, Martin Luther King Jr., Jesse Owens, Duke Ellington, and Lionel Richie.

Alpha Phi Alpha regards the house as its birthplace and credits the Newtons with providing crucial support to African American students at Cornell.
Sources
"Dennis-Newton House." Historic Ithaca. February 06, 2016. Accessed March 09, 2017. http://www.historicithaca.org/2016/02/06/dennis-newton-house/.

"The Founding of Alpha Phi Alpha." Alpha Phi Alpha Fraternity. Accessed March 09, 2017. http://www.apa1906.net/history.

"Seven to Save: 2016-17." Preservation League of New York State. Accessed March 09, 2017. http://www.preservenys.org/seven-to-save---2016-17.html.



Additional Information