Paul Laurence Dunbar House
Introduction
The house was once the home of the famous African American poet, playwright, and novelist Paul Laurence Dunbar (1872-1906), who spent most of his life in Ohio. Recognized nationally and internationally as one of the country's best poets, he was well known for using the "negro" dialect of the South in his work to help convey the daily struggles and joys of African American life at the turn of the century. He also wrote novels, short stories, and lyrics for musicals and plays. The house is a museum and National Historic Landmark.
Images
The Paul Laurence Dunbar House was built in 1894. Dunbar lived here between 1904-1906.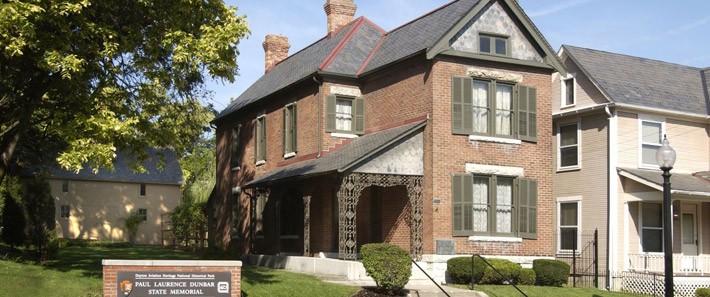 Paul Laurence Dunbar (1872-1906)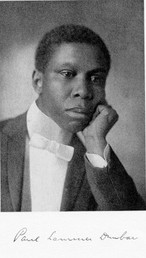 Flyer advertising a poetry recital featuring Dunbar.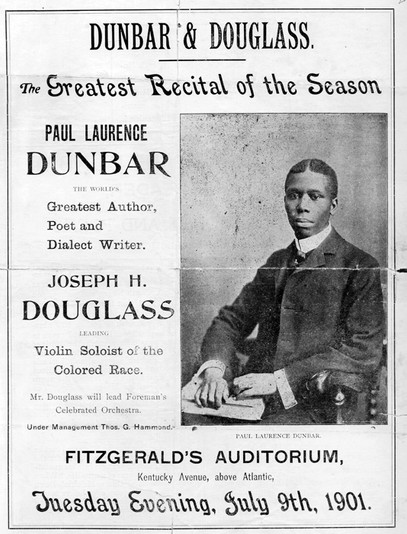 This historical marker describes Dunbar's life.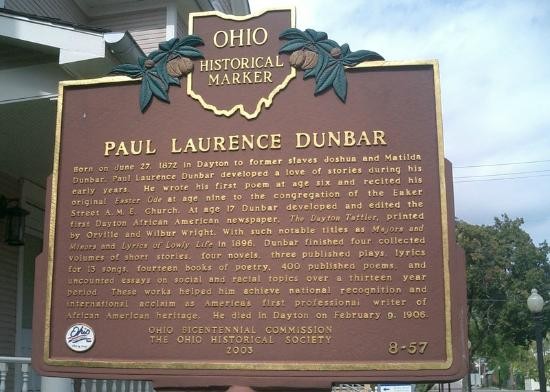 Backstory and Context
Dunbar was the only African American student in his high school-Dayton's Central High School, but his classmates accepted him. In fact, Dunbar was the editor of the school newspaper and the president of the school literary society. Interestingly, Dunbar was friends with Orville and Wilbur Wright in high school. The Wright brothers assisted Dunbar in building a bicycle, which is currently in the historical house to see. Also, the Wright brothers and Dunbar worked together to publish the first African American newspaper of Dayton. However, the paper only existed for a short period of time due to lack of money.

Later, Dunbar worked as an elevator operator. In 1892, Dunbar published Oak and Ivy, his first collection of poetry. By 1895, Dunbar published his second collection, Majors and Minors. He became known internationally for his poetry, so much so that held readings and visited literary societies in Europe. Upon returning to the US, he worked as a library assistant at the Library of Congress. Unfortunately, Dunbar has to resign from the job when he was overwhelmed with a case of tuberculosis. He continued to write until his young death at the age of 33 on February 9, 1906.

The Ohio Legislature dedicated Dunbar's house to be a memorial to commemorate him. This became the first Ohio state memorial in honor of an African American. The home has been open to the public since 1938.

In the home, you will find on display the bike the Wright brothers helped Dunbar build, the desk and chair in which the poet composed his works, Dunbar's Native American art collection, and a ceremonial sword that President Theodore Roosevelt presented to Dunbar. There is also a visitor's center on site.

Sources
"Paul Laurence Dunbar House Historic Site." Dayton History. Accessed April 24, 2014. http://www.daytonhistory.org/destinations/paul-laurence-dunbar-house-historic-site.

"Paul Laurence Dunbar House." Ohio History Connection. Accessed April 24, 2014. http://www.ohiohistory.org/museums-and-historic-sites/museum--historic-sites-by-name/paul-laurence-d...

"Paul Laurence Dunbar." Library of Congress. Accessed April 24, 2014. http://memory.loc.gov/ammem/today/jun27.html.
Additional Information