First Church of God (Third Presbyterian Church)
Introduction
The Third Presbyterian Church, now the Blacksburg First Church of God, was constructed in 1904. It was sold to the First Church of God in 1959 after a fire destroyed their original church building on the corner of Draper and Roanoke Streets (today the site of a 7-11) in 1958. The building is within Blacksburg's original sixteen squares and is distinguishable by Tiffany stained glass windows. Presently, the Presbyterians worship at sanctuary on Eakin Street that houses one of the largest congregations in town.
Images
Blacksburg First Church of God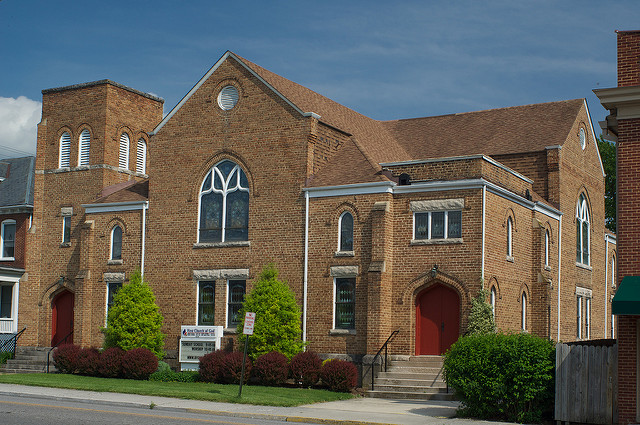 Tiffany Stained Glass Windows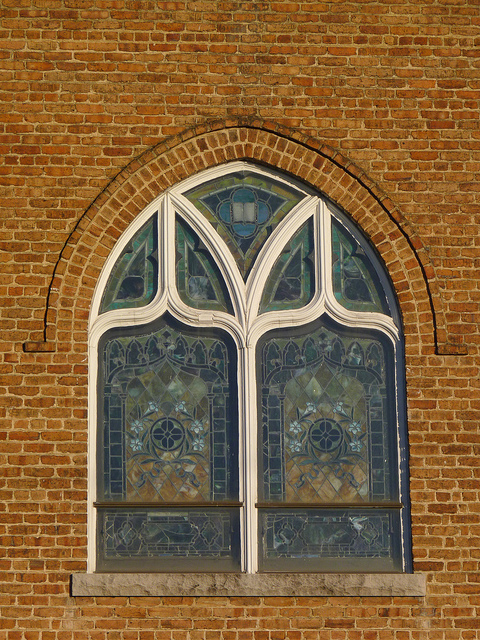 Backstory and Context
Blacksburg has always had many churches. In 1832, approximately two dozen charter members from the Christiansburg Presbyterian Church organized the first church in the town proper. The brick structure they constructed at 117 South Main Street has not been used in a religious capacity for many years. In 1904, the congregation built another church on Roanoke Street. This building is now used by the First Church of God, whose congregation was formed in 1952 to serve Virginia Tech. The FCG purchased the former Presbyterian church following a 1958 fire that destroyed their previous location. The only items to survive the fire are the current communion table and several beams. The beams were fashioned into the cross that hangs at the front of the Sanctuary.

Sources
"Bfchog: About Us." Blacksburg First Church of God. Accessed March 8, 2017. http://www.bfchog.org/About.html.

"Blacksburg Presbyterian Church." Blacksburg Museum & Cultural Foundation. Accessed March 8, 2017. http://Blacksburgmuseum.org/about/historic-churches/Blacksburg-presbyterian-church/.

Bodell, Dorothy H. "A Special Place for 200 Years: Blacksburg Social Life and Customs." Special Collections at Virginia Tech. Last modified October 26, 1998. http://spec.lib.vt.edu/bicent/recoll/histbook/bodell.htm.

"The Sixteen Squares of Blacksburg". YouTube. https://www.youtube.com/watch?v=zB1zBWt4KVw, published by the Town of Blacksburg, VA, http://tobweb.org/WalkingTour/.

"National Register of Historic Places Registration Form: Blacksburg Historic District". Virginia Department of Historic Resources. December 1990. Accessed February 28, 2017.
http://www.dhr.Virginia.gov/registers/Counties/Montgomery/150-0108_Blacksburg_Historic_District_1991...

"First Church of God, Blacksburg," image by Steve Tatum http://www.flickr.com/photos/setatum/7150899521 and http://www.flickr.com/photos/setatum/7182976270.

Additional Information