Cape Charles Light
Introduction
There have been three lighthouses on the site currently known as Cape Charles. The first was a 55 foot tall masonry tower, built in 1828. When it was deemed inadequate due to its height, it was replaced in 1864 with a 150 foot conical brick tower. Due to the extremely fast coastal erosion of Cape Charles, another tower needed to be built by the 1890s. The third tower, which still stands today, was completed and lit in 1895. It was electrified in 1933, automated in 1963, and added to the National Register of Historic Places in 2003.
Images
Third Cape Charles Lighthouse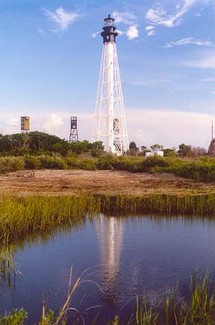 Backstory and Context
The first Cape Charles Lighthouse was constructed in 1828, consisting of a 55 foot tall conical masonry tower. While it served for thirty-six years, it was deemed inadequate due to its height. Even if it had not been, coastal erosion would have required the construction of a new tower regardless.

The second Cape Charles Lighthouse was a 150 foot conical brick tower, constructed in 1864. Unlike its predecessor, many expensive, though ultimately pointless, endeavors were made to prevent its destruction via coastal erosion, which was measured at 37 feet per year. While a new lighthouse was built, the second structure served as an observation tower until it collapsed into the ocean in 1927.

The third and final lighthouse was completed in 1895. The first proposed design called for an iron-plated conical structure, though the end result was much different. It stands at 191 feet tall with a columnn in the middle and external frame work, giving it a bare-bones appearance. It is currently the second tallest in the United States and was added to the National Register of Historic Places in 2003.
Sources
Cape Charles Lighthouse, Virginia. Lighthouse Friends. https://web.archive.org/web/20070930015202/http://www.lighthousefriends.com/light.asp?ID=450.

Cape Charles Light. Cape Charles Lighthouse Project. http://cblights.com/lights/capecharles.html.

National Register of Historic Places Nomination Form. Virginia Department of Historic Resources. http://www.dhr.Virginia.gov/registers/Counties/Northampton/065-0071_Cape_Charles_Light_Station_2003_Final_Nomintation.pdf.