Edgar Allan Poe House and Museum, Baltimore
Introduction
Upon a midnight dreary, do you ever ponder weak and weary over a quaint and curious volume of forgotten lore? If so you may want to visit the Edgar Allan Poe House and Museum. Poe was an eloquent writer who is renowned for his dark stories and poems that revolve around death and despair. He was one of the most influential writers in American history. Many have questioned his sanity and his actions but his works are still studied and discussed in open forums today.
Images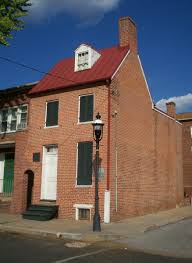 Backstory and Context
Edgar Allan Poe was born on January 19, 1809. Due to financial hardships and a lack of ways to support himself Poe enlisted in the army on May 27, 1827. When he joined the army he enlisted under the name Edgar A. Perry and claimed to be 22 years of age instead of 18. He was then discharged on April 15, 1829. At the age of 27 he married his 13 year old cousin Virginia Eliza Clemm. At the age of 24 Virginia contracted and died of tuberculosis. In 1849, Poe himself was found wandering the streets in a delusional state and was taken to Washington Medical College where he died on October 7, 1849. The cause of his death is highly debated and without autopsy reports or medical records there is no known cause of death. Poe was known as a depressed man and that showed in his works. He wrote poems such as The Raven and Annabel Lee. Some claim that the death of the heroine in Annabel Lee depicts his late wife Virginia. Other works by him include stories such as The Pit and the Pendulum, The Fall of the House of Usher, The Tell-Tale Heart and The Masque of the Red Death.

Many of his works are still used in academic settings today and are analyzed for the hidden meanings within his work that are supposed to mirror his life as well as for literary purposes. Movies such as The Raven and shows like The Following illustrate ways in which modern culture has been influenced by the works of Edgar Allen Poe.

You can visit the Edgar Allan Poe House and Museum to learn more about Poe and his work. The house is the one where he lived with his aunt, grandmother and two cousins. Even though the house is not fully furnished, the original foundations have been maintained. You can walk on the same floor and stare at the same walls that helped to mold the brilliant mind of Poe. On the tour you will learn more about Poe's life and death as well as see some of his personal artifacts. Some of those belongings include: a portable writing desk and chair, a telescope, china and glassware. To help you to see through Poe's eyes in an attempt to better understand his mind and works, visit the Edgar Allen Poe House and Museum.

Also in Baltimore are Poe's grave site and The Horse You Came In On Saloon, where Poe is rumored to have visited shortly before his death.
Sources
Extensive information can be found through the Edgar Allan Poe Society of Baltimore (http://www.eapoe.org/), including Poe's collected works, books and articles, images, and information on sites.
Additional Information