Historical Marker: The Burnet House
Introduction
Between 1850 and 1926 where this office building now stands was once one of the world's finest hotels: The Burnet House. Several prominent figures of the 19th century stayed at the hotel including Abraham Lincoln (on two occasions, once in 1859 when he was campaigning for the Ohio Republican Party, and the other in 1861 when he was on his way to inauguration as President), Henry Clay, James Buchanan, and Horace Greeley, the founder of the New York Times. In 1862 after the Civil War battle at Shiloh, the hotel served as a hospital for wounded troops. The hotel is also notable for the meeting on March 20, 1864 between Generals Ulysses S. Grant and Tecumseh Sherman who discussed their military campaign strategies against the Confederacy in what would be the last year of the war. The hotel closed in July 1926 was demolished soon after.
Images
The marker is located on the corner of the building on Vine Street.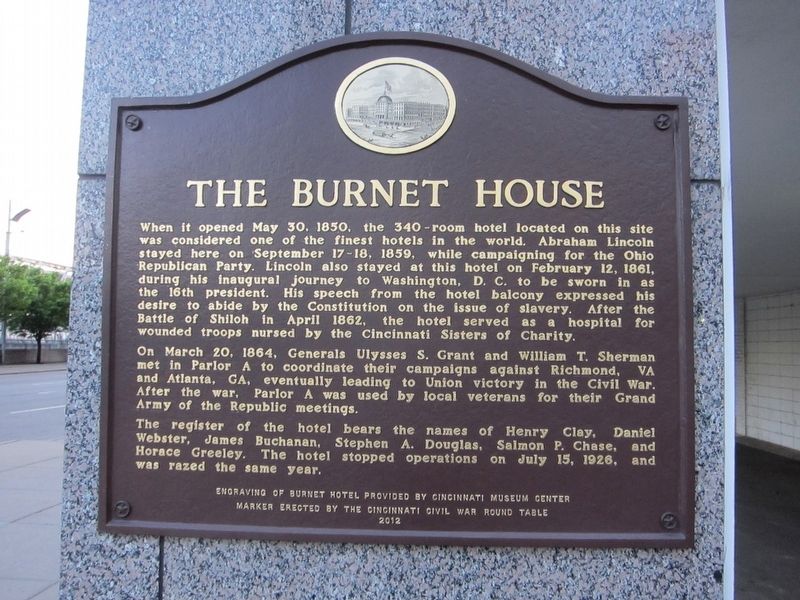 The Burnet House as it appeared in the 19th century.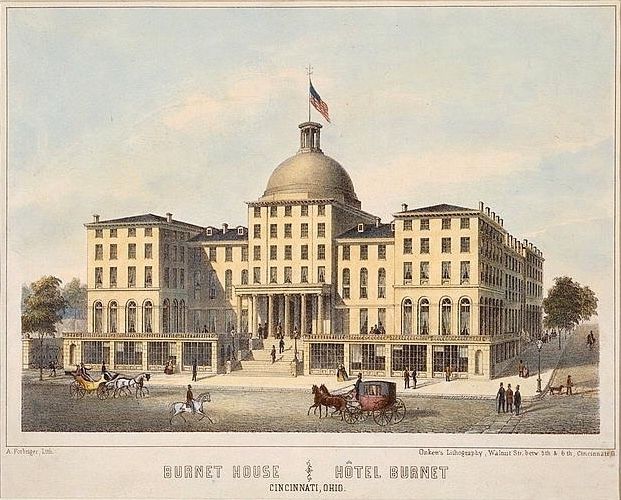 Sources
"The Burnet House." The Historical Marker Database. Accessed March 6, 2017. http://www.hmdb.org/marker.asp?marker=98117.

Photo: Andrew Ruppenstein, via The Historical Marker Database.
Image of The Burnet House: Library of Congress