New York State Court of Appeals
Introduction
This Greek Revival building was constructed on 1842 to house state offices, such as the Comptroller and the State Architect. It was designed by local architect Henry Rector. It served in this capacity for 75 years. After refurbishments in 1916, it was officially dedicated as the Court of Appeals home on January 8, 1917.
Images
Facade of New York State Court of Appeals Building.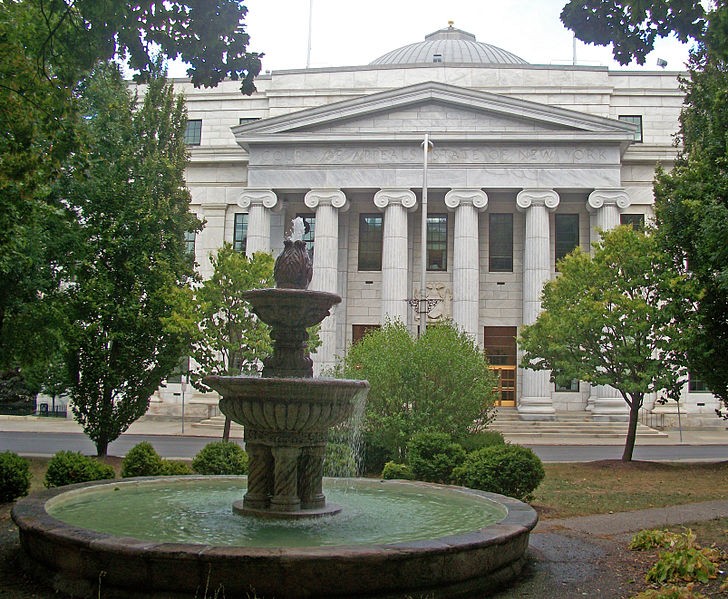 Richardson Courtroom of the New York State Court of Appeals.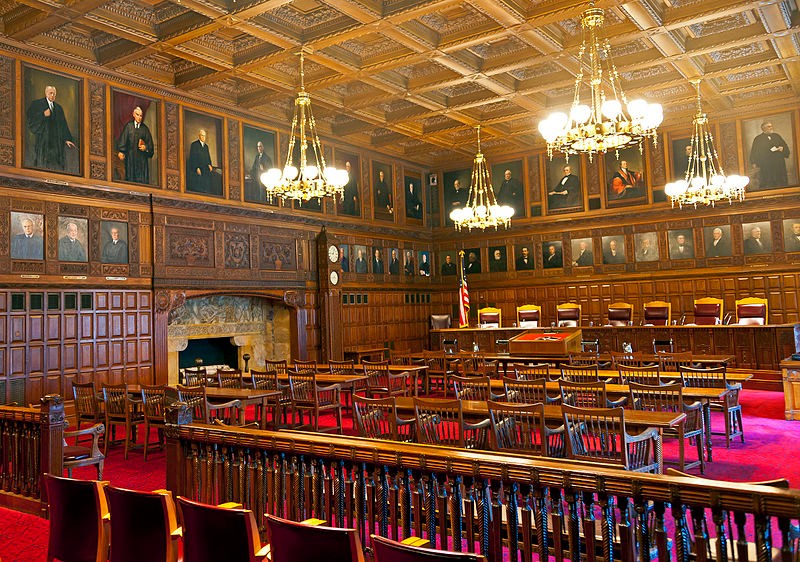 Temple of Athena Nike Apteros on the Acropolis in Athens. Notice the similarities of the facade to the Court of Appeals Building.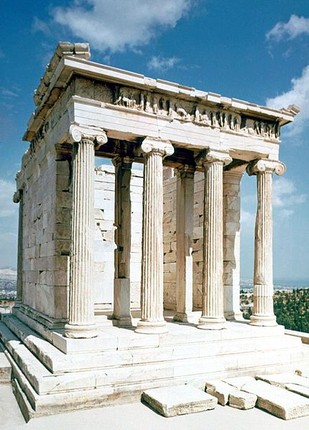 Backstory and Context
The current New York State Court of Appeals building was constructed in 1842 to hold state offices. The court itself did not even come into existence until 1847. The facade of the building has retained it's original Greek Revival style. The columnns were constructed to resemble those in the temple of Athena Nike Apteros on the Acropolis in Athens. The scroll like element at the top of each, is emblematic of the Ionic Order, one of the three orders in classical architecture. The marble for the facade was quarried at the state prison at Mt. Pleasant (Sing-Sing).
When the Court of Appeals moved here in 1917, from its previous home in the State Capital building, it brought it's courtroom with it. The chamber was designed in 1881 by Henry Hobson Richardson with striking oak furniture and one of a kind fixtures, such as a fireplace made out of Mexican onyx. This room was dissembled and moved into the new building piece by piece. It is now considered to be one of the finest remaining 19th century government chambers.
Refurbishments and expansions were undertaken in the late 1950s and again in the early 2000s. These added two wings on either side of the original building, increased and reorganized interior office space and provided updates to systems like plumbing and wiring.



Sources
Court of Appeals of the State of New York: Restoration and Renovation 1842-2004. New York Courts. January 01, 2004. Accessed March 06, 2017. https://www.nycourts.gov/ctapps/news/1230LB.pdf.
Photo of Facade: By Daniel Case (Own work) [GFDL (http://www.gnu.org/copyleft/fdl.html) or CC BY-SA 3.0 (http://creativecommons.org/licenses/by-sa/3.0)], via Wikimedia Commons
Photo of Chamber: By Daniel Case (Own work) [GFDL (http://www.gnu.org/copyleft/fdl.html) or CC BY-SA 3.0 (http://creativecommons.org/licenses/by-sa/3.0)], via Wikimedia Commons
Photo of temple: By Steve Swayne [CC BY-SA 2.0 (http://creativecommons.org/licenses/by-sa/2.0)], via Wikimedia Commons