Historical Marker: Stephen C. Foster
Introduction
This marker commemorates the brief and tragin life of Stephen C. Foster (1826-1864) who became America's first professional songwriter. Some even consider Foster as the "father of American music" owing to his creation of uniquely American melodies such as "Camptown Races" and "My Old Kentucky Home." Although many of his songs featured nostalgia for the American South, Foster was a northerner who only crossed the Mason-Dixon Line one time in his thirty-eight years of life. He lived in a house at this location between 1846-1850. His songs were inspired by the work of Dan Rice, a white performer who rose to fame by painting his face Black and performing bufoonish rituals meant to unite his white audience and reinforce their belief that they were superior to African Americans. Many of Foster's lyrics reflected the orientation of Rice's performances. And while American audiences continue to sing Foster's songs, it is important to note that some of the lyrics have been altered to remove their explicitly racist message.
Images
The marker is located on the Guilford Building next to the entrance.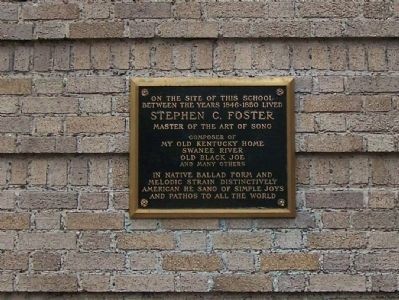 Stephen Foster (1826-1864)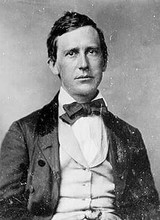 Backstory and Context
Stephen was the first in the country to compose music that was genuinely American. Some of his famous tunes include "Oh, Susana", "Lou'siana Belle", and "Old Uncle Ned". Themes included politics, river life, slavery, battlefields, and love of home. Foster wrote the song "Oh Susana" to tell the story of a free Black man traveling on a riverboat. The song's original lyrics utilized racial slurs and were sung by white men performing in Blackface.

Stephen came to Cincinnati to work as a bookkeeper at the Irwin and Foster Steamboat Company but that didn't last long as his music career started to take off. The city at the time was a sort of cultural melting pot, where Irish, Scottish, African slaves, and river workers intermingled. These influences inspired many of Stephen's songs. During much of the 1850s his music would be disseminated through the touring minstrel shows called Christy Minstrels.

As the Civil War approached, Stephen's songwriting began to slump and his popularity waned, along with his income despite the royalties he earned from music deals. The money he did obtain went mostly to sustain his alcohol addiction. His wife (they married in 1850) and daughter left him prior to the outbreak of the Civil War. Stephen died alone in a flophouse in New York City, addicted to alcohol to the point he sold his own clothes and neglected his health. He cut himself while shaving and died of an infection in January, 1864, in a New York City slum.

Sources
"Stephen Foster." Songwriters Hall of Fame. Accessed March 6, 2017.
http://www.songwritershalloffame.org/exhibits/bio/C10.

Interview of Ken Emerson, The Lyrics And Legacy Of Stephen Foster. Fresh Air: National Public Radio. April 16, 2010. Accessed March 06, 2017. http://www.npr.org/templates/story/story.php?storyId=126035325.

"Stephen C. Foster." The Historical Marker Database. Accessed March 6, 2017. http://www.hmdb.org/marker.asp?marker=43654.

Friedman, Friedman. Can't Escape Stephen Foster. The New Yorker, March 10, 2014. http://www.newyorker.com/culture/culture-desk/cant-escape-stephen-foster.


Additional Information