Historic Locust Grove
Introduction
Locust Grove was built by William and Lucy Croghan in the early 1790s. Lucy's brothers, Revolutionary War General George Rogers Clark and explorer William Clark, were two of the guests that made Locust Grove famous. Other visitors to the home included future presidents James Monroe, Andrew Jackson, and Zachary Taylor. In 1961, Jefferson County and the Commonwealth of Kentucky bought Locust Grove and began restoring it and rebuilding outbuildings, such as a kitchen, the slave quarters, and a log cabin. Locust Grove was first opened to the public in 1964. Since then, the house has undergone further renovations and become the site of a number of educational events throughout the year.
Images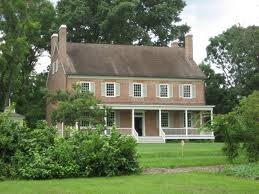 A side-view of Locust Grove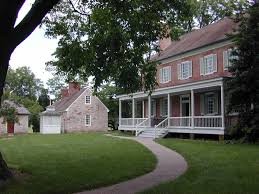 Backstory and Context
William Croghan was born in Ireland in 1752 but came to the United States at age sixteen to live with his uncle. After apprenticing as a merchant in New York, Croghan became a captain in the British Army in 1771. When the Revolutionary War broke out, Croghan left the British Army and joined the rebels. He served under George Washington when he crossed the Delaware and during the infamous winter at Valley Forge. He also fought alongside the likes of Alexander Hamilton and James Monroe. When he was paroled as a prisoner of war in 1781, Croghan got to see General Cornwallis's surrender. Once the war was over, Croghan earned a surveying certificate from the College of William and Mary. He and George Rogers Clark then began surveying the Virginia State Line. As payment, the men received land in what would become Louisville, Kentucky. Clark introduced Croghan to his sister Lucy Clark in 1765, and the two married on July 14, 1789.
Shortly after their marriage, the couple began work on their home, Locust Grove, which was not completed until 1795. Here, they raised their eight children and farmed the land using the labor of over thirty enslaved African Americans. In 1809, George Rogers Clark moved into the home. As a local celebrity, having founded Louisville, Clark attracted a number of high-profile guests to the house. Future presidents Zachary Taylor, James Monroe, and Andrew Jackson all visited Locust Grove, as did Vice President Aaron Burr and artist John James Audubon. Locust Grove was also the center of attention when George and Lucy's younger brother William Clark stopped by with Meriwether Lewis on their way back East after their explorations in the West in 1806. Locals celebrated their arrival with a banquet and a number of bonfires.
When George Rogers Clark died here in 1818, Locust Grove became a part of his legacy. Clark had helped protect settlers in Kentucky from being attacked in raids by Native American allies of the British during the Revolutionary War by convincing Virginia to make Kentucky a part of its state. This would give it access to government supplies and protection. Clark then persuaded Virginia Governor Patrick Henry to give him command over a small army that would attack British outposts on the Ohio River. Once the war was over, Clark settled in the town he had founded in 1778, Louisville. In 1783, Clark refused an offer from Thomas Jefferson to lead an expedition into the western part of the continent, but he recommended his younger brother William. A decade later, Clark accepted a commission from the French army to lead Kentuckians against the Spanish. President George Washington ordered Kentucky's governor to arrest Clark, but he refused. Clark remained active in local affairs and negotiations with Native Americans until his health forced him to retire. He died at Locust Grove on February 13, 1818 and was buried in a family plot behind the house, though he was later reinterred at Cave Hill Cemetery.
William Clark led a notable life of his own. He came to Kentucky with his family in 1784. Five years later, he began participating in attacks against Native Americans, including the Creek and the Cherokee, in the "backcountry" of Kentucky. He eventually rose to the rank of first lieutenant. In 1803, President Thomas Jefferson tasked Clark and Meriwether Lewis with exploring the land acquired by the Louisiana Purchase. From Louisville, the two men and the rest of their group headed to St. Louis, then on to what is now South Dakota, Montana, and Oregon. They were aided in their efforts by a fifteen-year-old Shoshone girl, Sacagawea. After their company was disbanded, Lewis and Clark stopped by Locust Grove before going their separate ways. Clark went on to become an Indian agent in St. Louis, governor of the Missouri Territory, and Superintendent of Indian Affairs. He died in St. Louis in 1838.
Meanwhile, back at Locust Grove, William Croghan died in 1822. Lucy Croghan then lived in Washington, D.C. with daughter Ann Jesup for a time before returning to Locust Grove in 1834. She died four years later. William and Lucy's son John Croghan then inherited the property. John was a doctor who had struck oil in 1829, the first person in Kentucky to do so. When he died in 1849, his will freed the remaining slaves at Locust Grove and left the property to his nephew. The house stayed in the family until it was sold in 1878 to riverboat captain James Paul. He then sold it to Richard Waters five years later. Locust Grove remained in the Waters family until 1961, when Jefferson County and the Commonwealth of Kentucky purchased it in 1961.
Renovations on the house were led by architect Walter M. Macomber, who had also overseen renovations of Williamsburg and Mount Vernon. Fred Morgan, from Louisville, was the on-site architect. The first goals of the restoration were to remove nineteenth-century additions to the house, such as the porches, trim, front doorway, and the 1837 wing. The original windows and hardware were reproduced or replaced with something similar. The walls were stripped down to their first layer of paint or wallpaper and the floors were sanded and refinished. The front door was reconstructed as were the kitchen and slave quarters. Once work was completed, the house was opened to the public in 1964.
Recently, even more work has been done to restore the house to its circa 1809-1816 appearance. Rugs, carpets, and painted floor cloths were recreated based on available information. Curtains and other linens were made using fabrics, dyes, and patterns that were common at the time. In 2008, preservation scientist Matthew J. Mosca determined the first layer of paint had really been a primer for more vibrant colors. Historic wallpaper experts from Adelphi Paper Hangings also identified and recreated a wallpaper designed by Reveillon of Paris in the 1780s.
Sources
Locust Grove. National Park Service: Lewis and Clark Expedition. Accessed April 08, 2019. https://www.nps.gov/nr/travel/lewisandclark/loc.htm.

Williams, Mary Beth. Historic Locust Grove. Kentucky History. Accessed April 08, 2019. https://explorekyhistory.ky.gov/items/show/197.

About Locust Grove. Locust Grove. Accessed April 08, 2019. http://locustgrove.org/learn/about/.

Croghan and Clark Families. Locust Grove. Accessed April 08, 2019. http://locustgrove.org/learn/croghan-and-clark-families/.

Raymond, Adam. Travel Back to the 1800s at the Historic Locust Grove Mansion. Travel + Leisure. October 25, 2016. Accessed April 08, 2019. https://www.travelandleisure.com/attractions/locust-grove-louisville.


Additional Information