Historical Society Museum of Hopkins County
Introduction
Housed in the former Hopkins County Library, the museum is listed on the National Register of Historic Places and features an original 1910 Buick Buggybout – one of only three left in the world! Other memorabilia dates back to the early 1800s and showcases the region's coal industry, political history, lifestyles, and more.
Images
Historical Society Museum of Hopkins County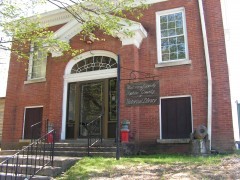 Backstory and Context
The Historical Society of Hopkins County was established February 5, 1974 with Vernon Gipson as acting chairman and Tim Cantrell as acting secretary of the community committee.
Harold Ledbetter was elected President, a post he held for the next five years. D. W. Dockrey was elected vice-president; Faye Cardwell, secretary and Joe Gooch, treasurer.
From this beginning the society has grown to be a leader in preserving Western Kentucky history, with an annual publication and many special publications, with over 400 members and a regular program at the monthly meetings held at 7 pm on the second Thursday of each month in the Museum on Union Street.
Other Presidents of the society have been Tim Cantrell, two terms; Irene Priest, two terms; Randall Teague, one term; Donna Slaton, two terms, Charles Lowther, one term, and J. Harold Utley, who held the post from 1988 until 2010.
1
http://historicalsocietyhopkinscoky.org/about/
Sources
1) http://historicalsocietyhopkinscoky.org/about/ 2) http://visitmadisonvilleky.com/listing/historical-society-museum-of-hopkins-county
Additional Information