Wheeler—Stokely Mansion
Introduction
The Wheeler–Stokely Mansion, also known as Hawkeye, Magnolia Farm, and Stokely Music Hall, is a historic home located at Indianapolis. It was built in 1912, and is a large 2 1/2-story, asymmetrically massed, Arts and Crafts style buff brick mansion. The house is ornamented with bands of ceramic tile and has a tile roof. It features a 1 1/2-story arcaded porch, porte cochere, and porch with second story sunroom / sleeping porch. Also on the property are the contributing Gate House, 320-foot long Colonnade, Gazebo, Teahouse, Gardener's House, Dog Walk, and landscaped property. It located on the grounds of Marian University. It is said that the mansion is haunted.
Images
Wheeler—Stokely Mansion as it appears today from the front.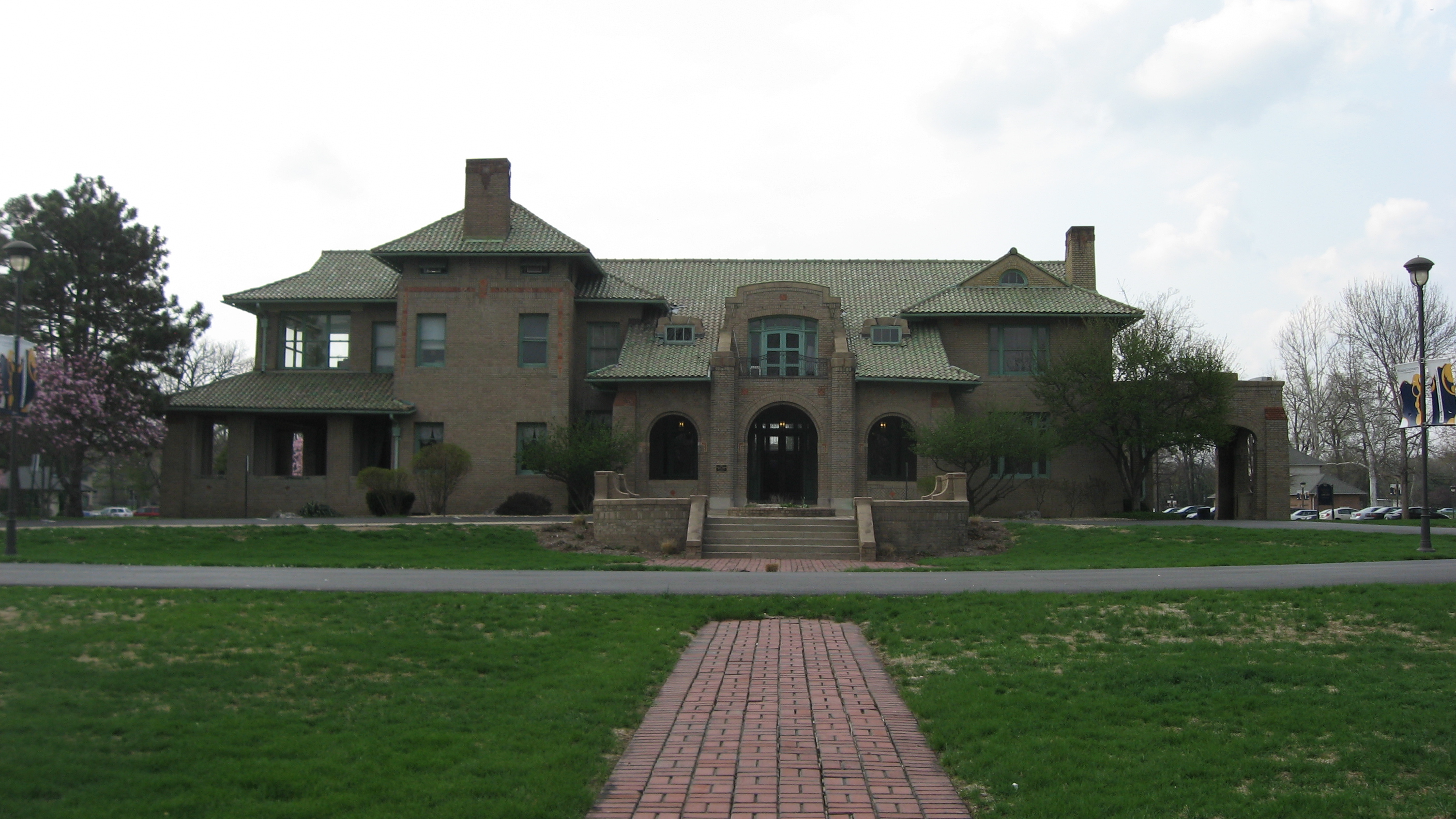 Wheeler—Stokely Mansion as it appears in the back today.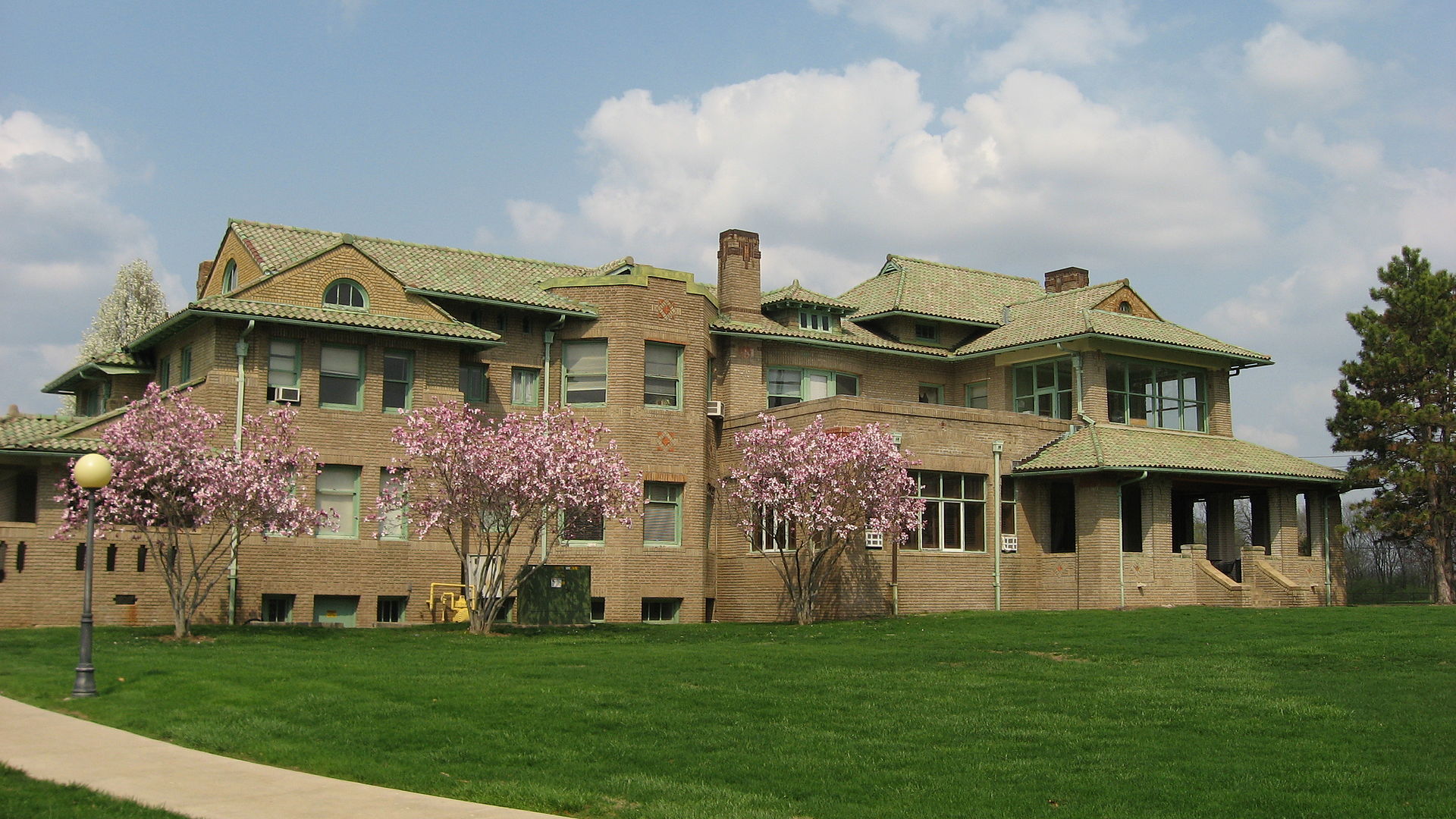 Backstory and Context
History of the mansion from the National Park Service:
The Wheeler—Stokely Mansion was constructed during what is known as the Country House Era, a time when the wealthy built homes for their families outside the city. This trend is reflected in the string of mansions the wealthy built in the early 1900s along Cold Spring Road, which was known as "Millionaires Row." The estate harks back to the early years of suburbanization in Indianapolis. Its first owner, Frank Wheeler, was closely associated with Indy's significant automobile manufacturing industry. The house, designed by a master architect, is among the city's best examples of Arts & Crafts architecture.
"Hawkeye" was the name Frank Wheeler gave his new mansion and estate overlooking Cold Spring Road, which was completed in 1911. Wheeler, a native of Iowa, earned his fortune in auto parts manufacturing in Indianapolis. He co-owned the Wheeler—Schebler Carburetor Company. The company made carburetors for more than 15 auto manufacturers including Ford, Dodge, Auburn, and Duesenberg. He was also a co-founder of the Indianapolis Motor Speedway. Later owners of the estate included G. Monty Williams, president of the Marmon Motor Company, and William Stokely, owner of Stokely-Van Camp Packing Company.

The Wheelers hired William Price of Price & McLanahan, a Philadelphia firm, to design the mansion. The house is 2½–stories with walls of tan face brick, capped by a green terra cotta tile roof. The bands of geometrical glazed tiles at corners and along upper walls were a trademark of Price & McLanahan's Arts & Crafts style. They are Mercer tile made by the famous Moravian Pottery and Tile Works of Pennsylvania. A porte-cochere accommodated the Wheelers' automobiles.
The grounds, believed to have been designed by local landscape architect A.W. Brayton, included a large reflecting pool with tower. While the pool and tower are gone, a long pergola and Japanese gardens with tea house and gardener's cottage remain.
Sources
"Indiana State Historic Architectural and Archaeological Research Database (SHAARD)" (Searchable database). Department of Natural Resources, Division of Historic Preservation and Archaeology.
Note:
This includes
Jennifer Hoffman, Mary Crowe, and Candy Hudziak (May 2004). "National Register of Historic Places Inventory Nomination Form: Wheeler–Stokely Mansion" (PDF).
A
nd accompanying photographs.
Additional Information