Birch Bayh Courthouse
Introduction
Built between 1902 and 1905, the Birch Bayh Courthouse is one of the earliest examples of the Beaux-Arts style. Originally built as a courthouse and post office, the building now functions exclusively as a courthouse. The building's facade is constructed of Indiana limestone. The courthouse interior includes a number of historical exhibits that change throughout the year and the building is listed on the National Register of Historic Places.
Images
The Birch Bayh Courthouse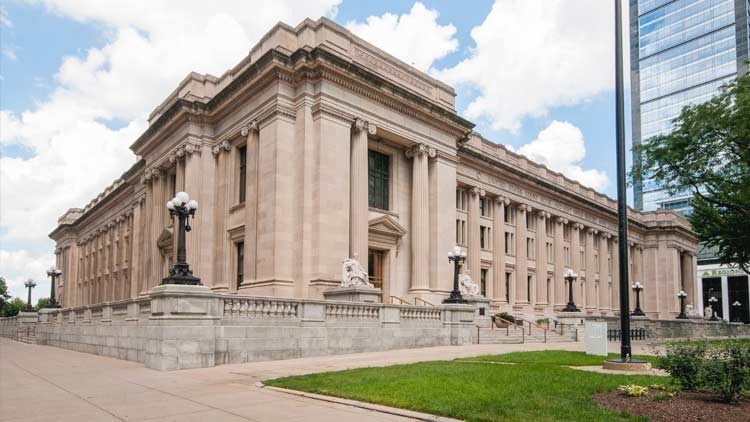 The interior of the courthouse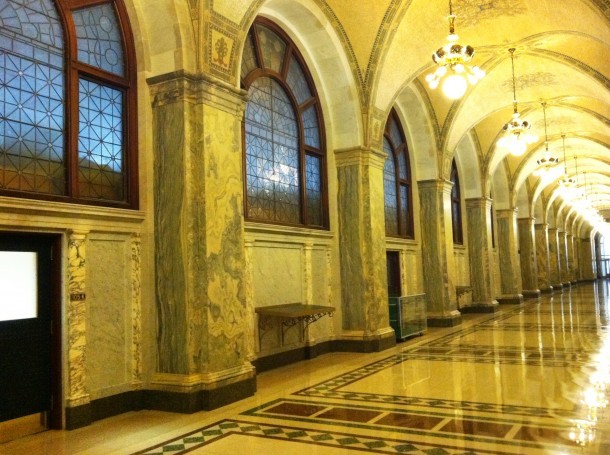 Close-up of one of Grant Christian's murals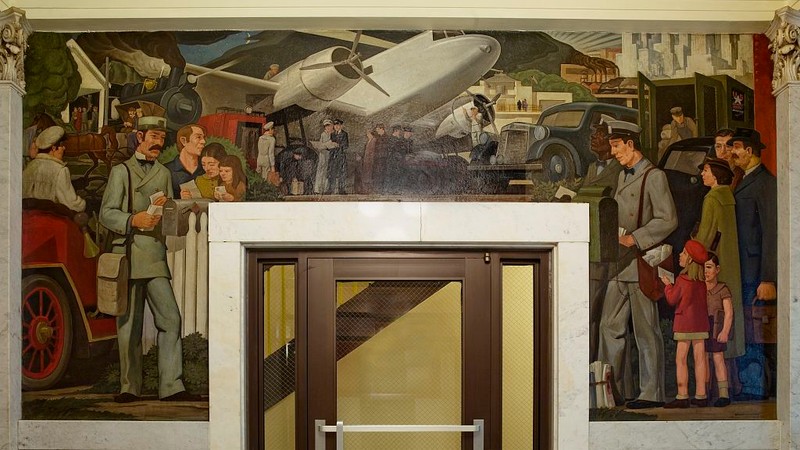 Backstory and Context
The Birch Bayh Courthouse is a courthouse in the United States District Court for the Southern District of Indiana. In 2003, the building was named in honor of Senator Birch Bayh who served eighteen years in the Senate. When it opened, the building housed the federal courts, the post office, and the executive branch offices. Today it serves exclusively as a courthouse. The building's grand architecture inspired subsequent government buildings in Indianapolis, including City Hall, and the Indiana War Memorial Plaza.
When it opened in 1903, the building was four stories tall and about half of its current size. The courthouse underwent an expansion in 1938 and it now takes up
the entire block bounded by Ohio, Meridian, New York, and Pennsylvania Streets. In addition, the north side of the building was expanded to
include five stories.
As is typical of Beaux-Arts architecture, the courthouse features extensive use of statuary, ornate murals, grand entrances, and an elevated ceiling on the first floor. The Main Cross Corridor feature and octagonal rotunda at either end, both constructed with a variety of marbles from around the world. The first-floor elevator lobby ornate bronze gates and elaborately detailed vaulted ceilings. Two marble staircases with intricate bronze balustrades lead from the first to the third floors. Classical symbols can be found throughout the building.
The murals on the southwest corner of the third floor were painted in 1935 by Indiana resident Grant Christian, under the auspices of the Treasury Relief Art Project.
Sources
Carlise, John C, and Darryl Jones, photography, '' A Simple and Vital Design: The Story of the Indiana Post Office Murals'' pp. 47-48

Ball, Bowen, Claffey etc. ''Indianapolis Architecture'', p. 25



Additional Information