Henry B. Bissell House
Introduction
This Greek Revival house was built in 1850 for Henry Benton Bissell. It is a notable example of high-quality stone masonry from the antebellum period. The stone was sourced from the Bissell family's nearby quarry and includes three colors of granite. It is the only stone Greek Revival house in the area.
Images
Henry B. Bissell House (source: Jerry Dougherty, full citation below)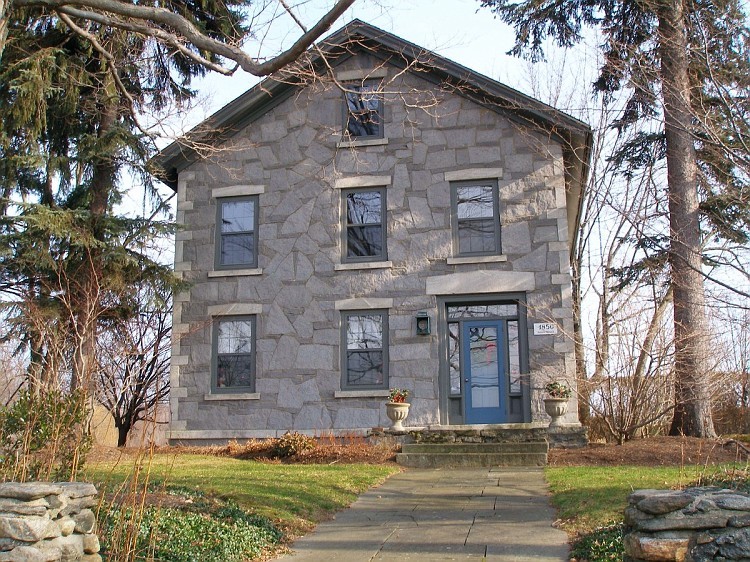 Backstory and Context
The Bissell family had already been in Connecticut for several generations by the time Henry Bissell built this house in 1850. The family owned considerable land in the Litchfield area, where family members ran successful farms and operated a grist mill and a granite quarry.

Henry Bissell was a prominent Litchfield farmer. In 1860, he owned 72 acres of farmland with 5 dairy cows, and his holdings only increased over the years. When the Shepaug Railroad started running through Litchfield in 1872, dairy farming became increasingly lucrative, since farmers could now ship milk daily to New York. By 1870, Henry Bissell had 9 cows, and by 1896, 20.

Henry Bissell died in 1887, and the property passed to his children Francis and Amelia Bissell. The house remained in the family until 1985.
Sources
McCahon, Mary E. "National Register of Historic Places Registration Form: Henry B. Bissell House." U.S. Dept. of the Interior, National Park Service. March 1990. Accessed March 05, 2017. https://npgallery.nps.gov/pdfhost/docs/NRHP/Text/90001288.pdf.

Photo credit: Jerry Dougherty, accessed 4 March 2017:
https://commons.wikimedia.org/wiki/File:HenryBissellHouseLitchfieldCT.jpg