Old Riverton Inn (Ives Tavern)
Introduction
This historic tavern and inn dates to the early 19th century. It is still in use today as a bed and breakfast inn. The exact year of its construction is unknown. While traditionally dated to 1796, landownership records and its architectural style suggest that it was in fact built c. 1811, when Jesse Ives acquired the property. Its design mixes architectural features from the Federal and Italianate styles. Since its opening, the Old Riverton Inn has served travelers for around two centuries.
Images
Old Riverton Inn (source: Jerry Dougherty, full citation below)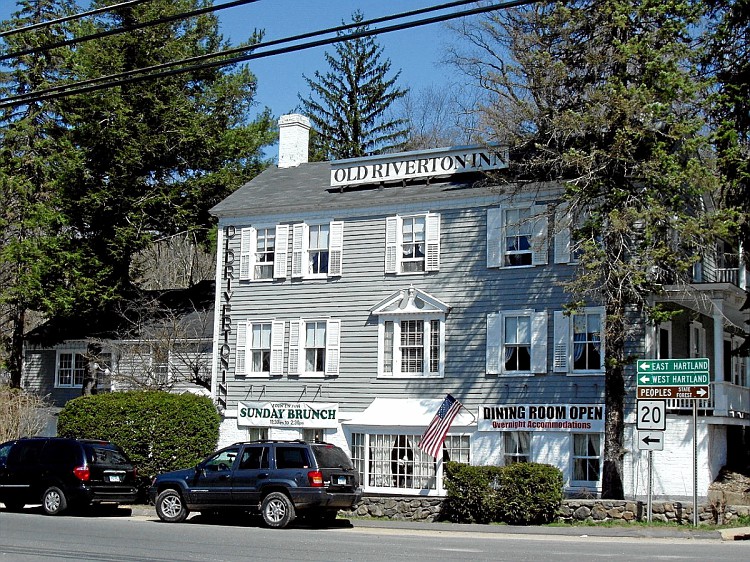 Backstory and Context
The Inn stands overlooking a bridge, built in 1790 across the Farmington River. Its location is thus ideal for an inn, since the bridge was the only available river crossing in the area and brought considerable traffic into Riverton.

The community of Riverton, which lies within Barkhamsted Town, was settled by farmers in the late 18th century. The waterpower supplied by the Farmington River contributed to its growth, and Riverton soon had gristmills, sawmills, an iron forge, a paper mill, a calico manufacturer, a coffee grinder, and a scythe manufacturer. For a while, the village was known as Hitchcocksville, thanks to Lambert Hitchcock and his well-known chair factory. Jesse Ives is thought to have established his inn/tavern around 1811.

Ives continued operating the tavern until 1856. During this time, New Hartford also emerged as an industrial hub, and the busy stagecoach traffic that traveled between the two towns kept the Ives Tavern in business. In the 1870s, however, with the establishment of the Connecticut Western Railroad, Riverton's importance waned, since the railroad route traveled through Winsted instead of Riverton. Nonetheless, the Riverton Inn survived this setback and remains in use today.


Sources
"History." Old Riverton Inn. Accessed March 04, 2017. http://www.rivertoninn.com/1/history.html.

Ransom, David. "National Register of Historic Places Registration Form: Riverton Inn." U.S. Dept. of the Interior, National Park Service. February 1992. Accessed March 05, 2017. https://npgallery.nps.gov/pdfhost/docs/NRHP/Text/92000906.pdf.

Photo credit: Jerry Dougherty, accessed 4 March 2017, https://commons.wikimedia.org/wiki/File:OldRivertonInn.jpg.


Additional Information