Historical Marker: George Washington Williams
Introduction
Situated outside of the entrance to Union Baptist Church, this marker honors the remarkable life of George Washington Williams (1849-1891), a prominent African American figure of the second half of the 19th century. Williams, who died at the age of 41, was a Baptist minister, lawyer, soldier in the U.S. Army (he also served in Mexico), journalist, and historian. His most notable works are two books on African American history: "History of the Negro Race in America from 1619 to 1880" (published in 1882), and "A History of the Negro Troops in the War of the Rebellion" (published in 1888). Both were well received. Another of his writings, a open letter he wrote to King Leopold of Belgium in 1890 criticizing the brutality the people in the Congo—which was a Belgian colony at that time—suffered under Leopold's rule, earned him fame as well. Sadly, Williams died not long after he arrived in England to write a book about Africa.
Images
The marker was erected in 2003. Photo: William Fischer, Jr.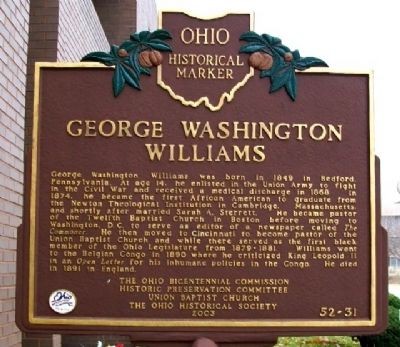 George Washington Williams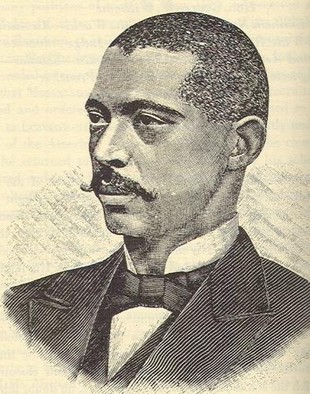 Backstory and Context
Williams was born in Pennsylvania, which had long since abolished slavery. Under a different name, he joined the army at the age of 14 years old and fought in the Civil War. After the war he went to Mexico to fight against the rule of Emperor Maximilian. He earned the rank of Lieutenant for his role in that war. After returning to the U.S., in 1868 he decided to obtain an education (his learning growing up was limited) and attended Newton Theological Institute in Boston. He served as a Baptist minister and started a newspaper called "The Commoner." He then moved to Cincinnati to become minister for the Union Baptist Church in the late 1870s. He was then elected to the Ohio State Legislature in 1879, becoming the first African American member of that body. He only served one term but wanted to continue writing anyway. This is what led him to write the books and why he traveled to England.
Sources
"George Washington Williams." The Historical Marker Database. Accessed March 3, 2017. http://www.hmdb.org/marker.asp?MarkerID=25125.

O'Connor, Allison Marie. "Williams, George Washington (1849-1891)." Accessed March 3, 2017. http://www.Blackpast.org/aah/williams-george-washington-1849-1891.