Historical Marker: Elizabeth Blackwell
Introduction
This marker commemorates the pioneering life and work of physician Elizabeth Blackwell. Born in 1821 in Bristol, England, Elizabeth was the first woman in American history to earn a fully accredited medical degree. She achieved this milestone in 1849 from Geneva Medical College in New York City. She also advocated for the education of women in medicine as well as other causes such as abolition. Her sister Emily was the third woman in the country to receive a medical degree. Along with her sister and another female doctor, Elizabeth opened a hospital called the Infirmary for Women and Children in 1857. Eventually, she established a medical college for women there in 1867. She died in Sussex, England in 1910.
Images
The marker is attached to the YWCA (Young Women's Christian Association of Cincinnati) building, which is listed on the National Register of Historic Places. Photo: William Fischer, Jr.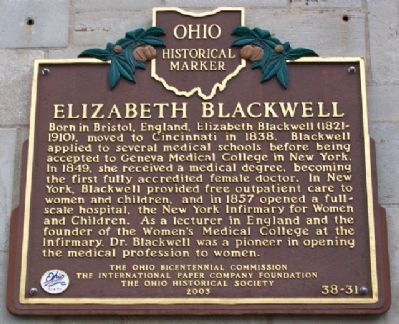 Elizabeth Blackwell (1821-1910)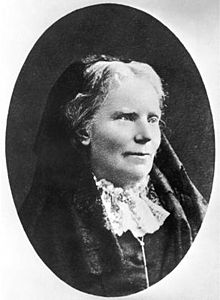 Backstory and Context
Elizabeth Blackwell was born in England in 1821. She and her family moved to the United States, first settling in New York City and then moving to Cincinnati, Ohio in 1838. Like her family, Elizabeth was socially active, involved in the abolition and women's rights movements, enjoying public lectures, attending various religious services, and beginning a school with her sisters. She was initially opposed to the study of medicine, as she wrote in her book: "The very thought of dwelling on the physical structure of the body and its various ailments filled me with disgust." Blackwell changed her mind after her dying female friend shared that she might have received better care had a female doctor cared for her. Blackwell then put all her energies into pursuing her new dream of becoming a doctor.

Blackwell applied to numerous medical schools throughout the northeast. Her acceptance by Geneva Medical College in New York (today Hobart and William Smith Colleges) was sort of an accident. The school allowed the all-male student body to vote whether to accept Elizabeth. To make a joke of it, they voted yes. As a result, she was accepted in 1847 and graduated two years later. She then traveled to Paris to further her studies in obstetrics but returned to New York City after losing sight in one eye and therefore the opportunity to study surgery.

After turned down from a job in a women's department at another dispensary, Blackwell decided to open her own in 1853 in New York City. This dispensary grew quickly and became the Infirmary for Women and Children in 1857. By 1967, the Infirmary opened a medical school for women. She later established a similar school in London. Along with her sisters, Blackwell partook in the aiding soldiers in the Civil War. When the United States Sanitary Commission rejected her plan to train nurses, Blackwell and her female colleagues established the Women's Central Association of Relief. The Association worked with the Army to select, train, and communicate with nurses across the Union, while also coordinating the collection and dissemination of supplies. Blackwell personally met with the Army Medical Department and the Secretary of War to advocate for her cause.

Though health issues forced her to retire from medicine in 1877, Blackwell remained an active figure in the medical field. She returned to Europe and was involved in social and health reform campaigns, and was especially interested in the intersection of medicine, morality, and religion. She published nearly twenty books in her lifetime. She died in 1910 in England. In 2003, the Ohio Bicentennial Commission and Ohio Historical Society (today the Ohio History Connection) recognized her contributions to medicine and her residence in Cincinnati with a historical plaque at the YWCA.
Sources
"Dr. Elizabeth Blackwell." Changing the Face of Medicine - U.S. National Library of Medicine. Accessed March 3, 2017. https://cfmedicine.nlm.nih.gov/physicians/biography_35.html.

"Elizabeth Blackwell." The Historical Marker Database. Accessed March 3, 2017. http://www.hmdb.org/marker.asp?MarkerID=24085.

Silber, Nina. Daughters of the Union: Northern Women Fight the Civil War. Cambridge: Harvard University Press, 2005.

MacLean, Maggie. "Women of the U.S. Sanitary Commission." Women of the Civil War. February 26, 2015. Accessed August 2018. https://www.civilwarwomenblog.com/women-of-the-u-s-sanitary-commission/



Additional Information