Former Home of U.S. Vice President Charles Fairbanks
Introduction
For over the last 60 years of his life, Charles Fairbanks lived here (the home since demolished and replaced). Fairbanks was best known as a successful lawyer who later became a US Senator then Vice President for Teddy Roosevelt. after losing his bid as Vice President again with Charles Evans Hughes (they lost to Woodrow Wilson and Thomas Marshall), Fairbanks returned to Indianapolis and law until his death. The historical marker is placed on the front lawn of a gated establishment.
Images
Charles Warren Fairbanks as Vice President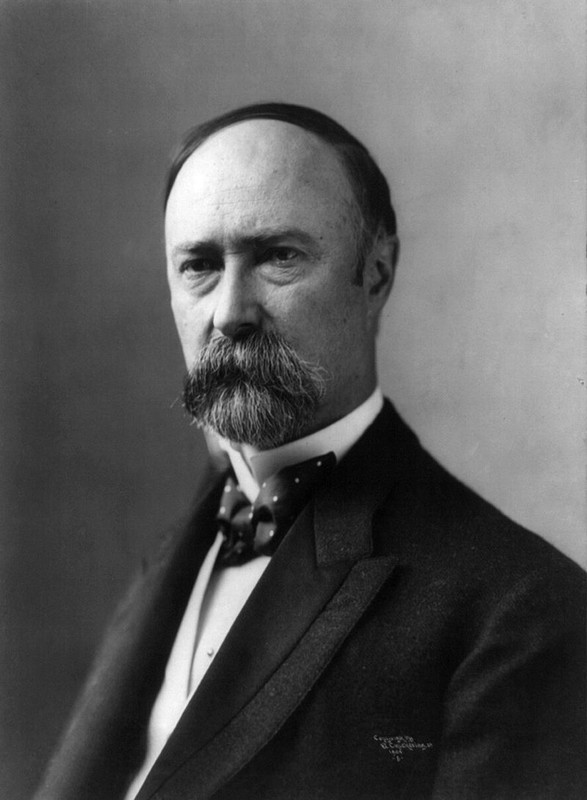 Historical Marker for the Charles Warren Fairbanks Home. The markers is located being the gate of the establishment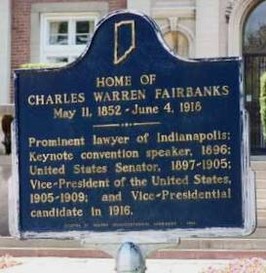 Charles Fairbanks with Teddy Roosevelt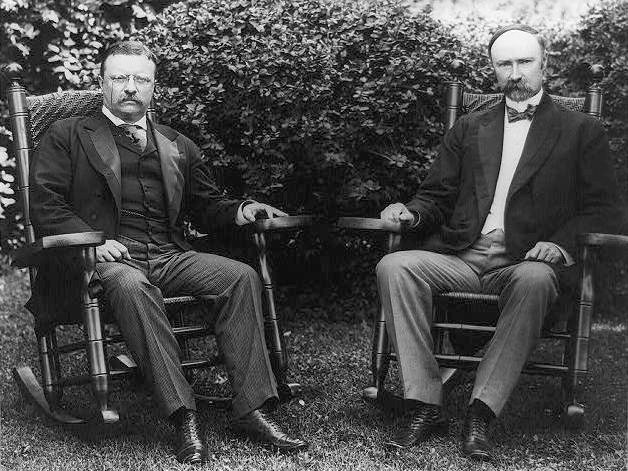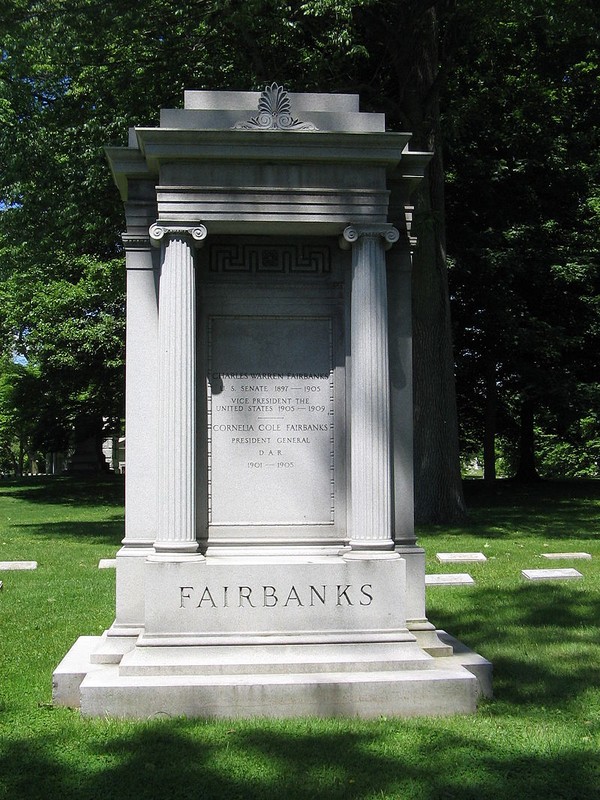 Backstory and Context
Charles Warren Fairbanks was born in a log cabin near Unionville Center, Ohio, the son of Mary Adelaide (Smith) and Loriston Monroe Fairbanks, a wagon-maker. Fairbanks's ancestry traced back to Puritan followers of Oliver Cromwell, with Jonathan Fairbanks being the first family member to reach America, in 1632. Fairbanks in his youth saw his family's home used as a hiding place for runaway slaves. After attending country schools and working on a farm, Fairbanks attended Ohio Wesleyan University, where he graduated in 1872. While there, Fairbanks was co-editor of the school newspaper with Cornelia Cole, whom he married after both graduated from the school.
Fairbanks' first position was as an agent of the Associated Press in Pittsburgh, Pennsylvania, reporting on political rallies for Horace Greeley during the 1872 presidential election. Fairbanks then moved to Cleveland, Ohio, where he briefly attended law school before his admittance to the Ohio bar in 1874. He then moved to Indianapolis, Indiana, the same year.
During his early years in Indiana, Fairbanks was paid $5,000 a year as manager for the bankrupt Indianapolis, Bloomington and Western Railroad. With the assistance of his uncle, Charles W. Smith, whose connections had helped him obtain the position, Fairbanks was able to become a railroad financier, and served as counsel for millionaire Jay Gould.
Prior to the 1888 Republican National Convention, federal judge Walter Q. Gresham sought Fairbanks' help in seeking the nomination for U.S. President. While the bid was ultimately unsuccessful, Fairbanks began to take an even greater interest in politics, falling short in a campaign for the United States Senate in 1893. He was elected as a Republican to the United States Senate in 1897, after having delivered the keynote address during the convention that nominated William McKinley for President.
During his eight years in the U.S. Senate, Fairbanks served as a key adviser to McKinley during the Spanish–American War and was also the Chairman of the Committee on Immigration and the Committee on Public Buildings and Grounds. In 1898, Fairbanks was appointed a member of the United States and British Joint High Commission which met in Quebec City for the adjustment of Canadian questions, including the boundary dispute about Alaska.
Fairbanks was elected Vice President of the United States in 1904 on the Republican ticket with Theodore Roosevelt and served all four years. Fairbanks, a conservative who had once been labelled a "reactionary machine politician" by Roosevelt (and who had been caricatured as a "Wall Street Puppet" during the campaign), actively worked against Roosevelt's progressive "Square Deal" program. For his part, Roosevelt did not provide Fairbanks with a significant role during his administration, and (having chosen not to seek reelection) strongly promoted William Howard Taft as his potential successor in 1908. Although Fairbanks also sought the Republican nomination for President, he was unsuccessful and returned to the practice of law. In 1912, Fairbanks supported Taft's re-election against Roosevelt's Bull Moose candidacy.
In 1916, Fairbanks was in charge of establishing the platform for the Republican party. In 1916, he sought the Republican presidential nomination, and although he failed in that bid, he did win the nomination for vice president as the running-mate of Charles Evans Hughes on June 10. Five months later, Hughes and Fairbanks lost a close election to the Democratic incumbents Woodrow Wilson and Thomas Marshall. Fairbanks is the most recent former Vice President to seek reelection for a non-consecutive term (with Adlai Stevenson I before him). Fairbanks once again resumed the practice of law in Indianapolis, but his health started to fail.
He died of nephritis in his home on June 4, 1918. He was interred in Crown Hill Cemetery
Sources
The life and speeches of Hon. Charles Warren Fairbanks : Republican candidate for vice-president
United States Congress. "Charles W. Fairbanks (id: F000003)". Biographical Directory of the United States Congress.
Official Proceedings of the Republican National Convention, 1904, pp 23 - 32, Original from Harvard University, Digitized Oct 26, 2007
Morris, Edmund (2002). Theodore Rex. The Modern Library. pp. 875 & 937
"Indiana Statesman Succumbs to Intestinal Nephritis After Long Illness at His Home. His Political Career Began After He Was a Successful Railroad Attorney. Adept in Platform Making. Reporter for The Associated Press. Attorney for Jay Gould. Beginning of His Political Career. Roosevelt's Running Mate.". New York Times. June 5, 1918. Retrieved 2010-03-06. Charles Warren Fairbanks, former Vice President of the United States and former United States Senator for Indiana, died at his home at 8:55 o'clock tonight.
Additional Information