Sarah T. Bolton Historical Marker
Introduction
This marker sits on the location where famed Indiana poet, singer, and activist, Sarah T. Bolton (1814-1893), lived from 1871-1893. Though born in Newport, Kentucky, she spent the most of her years in Indianapolis. She is well known in Indiana not just for her poetry and singing, but for her activism for women's rights. This area is called Beech Bank due to the prominence of Beech trees, of which the Boltons named their farmstead, "Beech Bank." The marker sits to the west of Bolton Park
Images
Sarah Tittle Barrett Bolton, from an engraving by John Sartain,1889.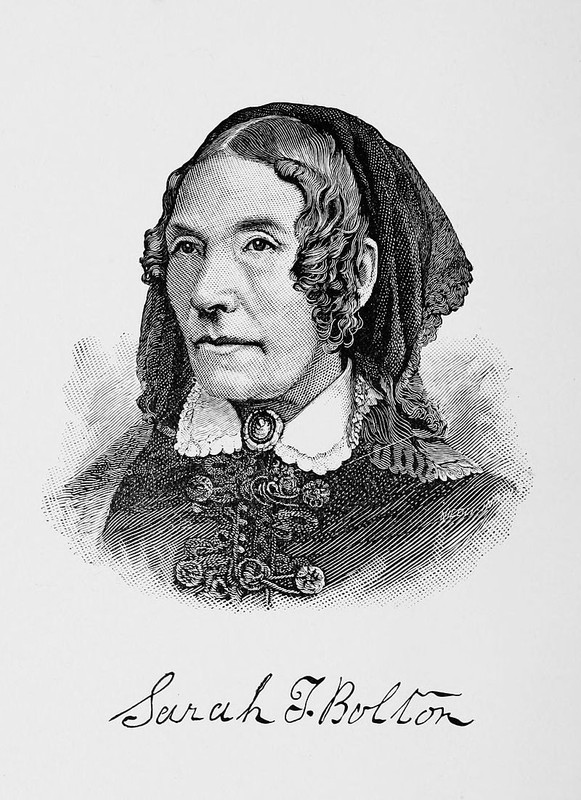 Sarah Bolton Historical Marker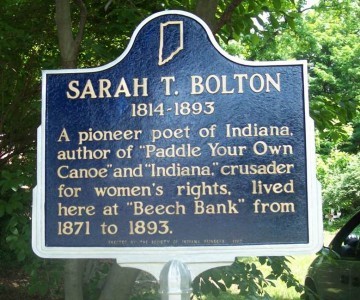 Sarah Bolton gravesite in Crown Hill Cemetery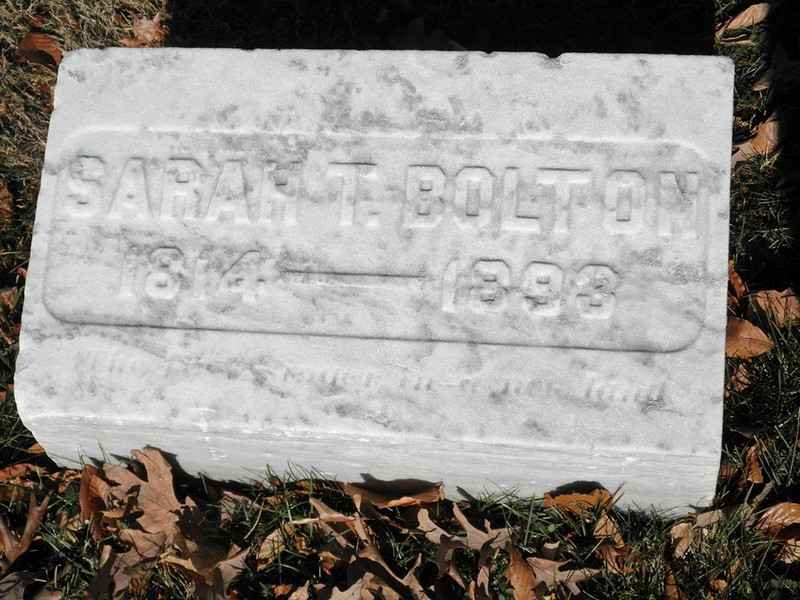 1941 bronze Sarah T. Bolton Relief in the Indiana State House.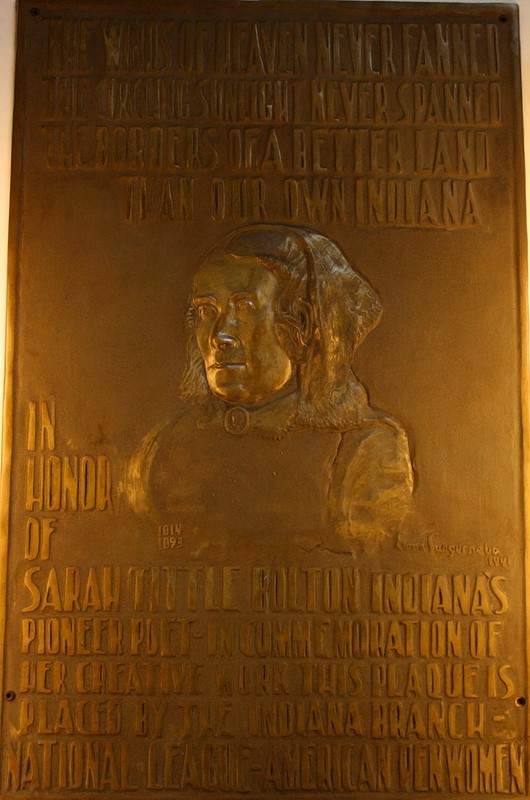 Backstory and Context
Sarah Barrett was born in Newport, Kentucky but moved to Indiana as a child. The family first settled in Jennings County, and later Madison. As a young woman she contributed poems to the Madison newspaper. These poems attracted the attention of the paper's editor, Nathaniel Bolton (July 25, 1803 – November 26, 1858), and the two were soon married.
The couple moved to Indianapolis where Sarah gained a wide reputation as a poet. In 1855, Nathaniel was appointed consul to Geneva, Switzerland, and Sarah accompanied him to his new post. They remained in Switzerland for three years. During this time Sarah acted as a correspondent for the Cincinnati Commercial. In 1858 they returned to Indianapolis. Nathaniel died a few months after their return. Nathaniel co-founded Indianapolis's first newspaper, the Gazette, and was Indiana State Librarian from 1851 to 1854.
After her first husband's death, Sarah married Addison Reese, a judge. They lived in Missouri for two years, but she found the climate unhealthy and moved back to Indianapolis. She only used the name Reese for business, and continued with the name Bolton for other purposes. She died in Indianapolis in 1893. She was buried in Crown Hill Cemetery.

Bolton was Indiana's foremost female singer for many years. A complete collection of her poetry was published in Indianapolis in 1886. She has been called the "Pioneer Poet Laureate of Indiana". She also donated to the State of Indiana 180 acres of land for the building of what was then known as the Indiana Hospital for the Insane. She is commemorated by the Sarah T. Bolton Relief, a 1941 bronze relief in the Indiana Statehouse. Additionally, and is best known for her poem "Paddle Your Own Canoe" (1850) and as an activist for women's rights where she worked with Robert Dale Owen during Indiana's 1850–1851 constitutional convention to include the recognition of women's property rights.



Sources
Ridpath, John Clark , ed.,
The Life and Poems of Sarah T. Bolton
, F. L. Horton, Indianapolis, 1880. from Archive.org
Songs Of A Life-Time
, The Bowen-Merrill Company, 1892.
"Sarah Bolton: "Hoosier Poetess" and Women's Rights Advocate"
.
Blogging Hoosier History
. Indiana Historical Bureau, Indianapolis, Indiana.

Starr, Harris Elwood (1929). "Bolton, Sarah Tittle Barrett".
Dictionary of American Biography
. New York:
Charles Scribner's Sons
.

Greasley, Philip A (2001). "Sarah T(itle Barrett) Bolton".
Dictionary of Midwestern Literature
. Indiana University Press. p. 75.

Morehouse, Lucille E. (5 October 1941). "Emma Sangernebo Prepares Plaque of Sarah T. Bolton for Statehouse."
Indianapolis Sunday Star
.
Additional Information