Lockefield Gardens
Introduction
Lockefield Garden Apartments was the first public housing development in Indianapolis, and one of the first in the U.S. The apartments were built between 1935 and 1938 under the auspices of the New Deal's Public Works Administration. The project had the dual objective of providing low-cost housing in what had previously been viewed as a slum neighborhood, as well as providing hundreds of construction jobs.
Images
A map of Lockefield Gardens
Contemporary view of Lockefield Gardens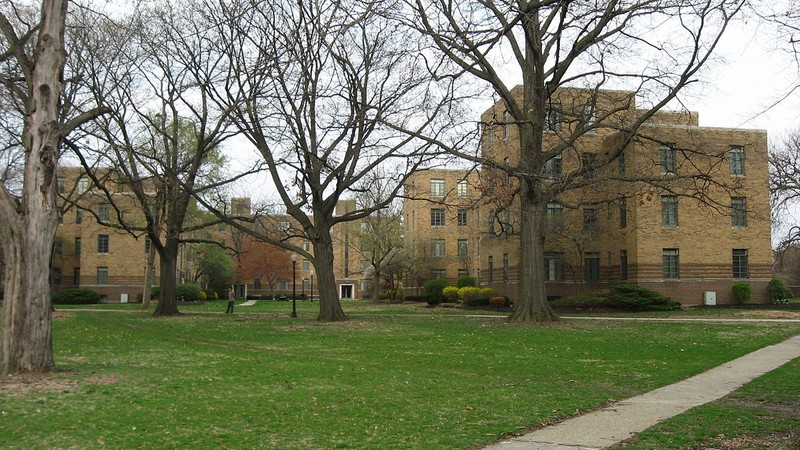 Backstory and Context
Completed in 1936, Lockefield Gardens Apartments was part of a massive program of public housing development undertaken by the Public Works Administration. The city received a $4.4. million loan to eradicate slum dwellings and construct new housing for low-income residents.

The development was located on twenty-two acres along Indiana Avenue, and because it was originally segregated, it became a vital part of the city's African-American community. Lockefield Gardens consisted of twenty-four apartment buildings which ranged from two to four stories.

Lockefield was noted for its thoughtful design. The development was open and airy, with plenty of open spaces for recreation, including a central green area. In addition to plenty of open space, the development also included a small shopping area, four playgrounds, and a school. The idea of public housing was still a relatively new one, and Lockefield Gardens became a model for later housing projects around the country. It was also regarded as one of the best of the New Deal public housing developments.

Lockefield had another claim to fame. For a number of years, a dirt basketball court known as the "Dust Bowl" was a crucial element of the community. Numerous basketball greats cut their teeth on the Dust Bowl, including NBA star Oscar Robertson. Many of the players who were part of the Crispus Attucks High School team which won championships in 1955 and 1956 were regulars at the Dust Bowl. Today, a small marker identifies the spot which was once the Dust Bowl.

By the 1950s and 1960s, racial mores in the city were less restrictive, and African-Americans began to move into other parts of the city. Much like other neighborhoods at that time, Lockefield Gardens began to decline and fall into disrepair. In the early 1980s, several of the buildings in Lockefield Gardens were demolished, despite the opposition of preservationists. Today, the only extant original Lockefield buildings are those along Blake Street. In 1985, Lockefield was designated the Lockefield Gardens Historic District, and the original buildings have been restored.
Sources
Bodenhamer, David. The Encyclopedia of Indianapolis. p.926-927.
Additional Information