William C. Nell House, Boston
Introduction
William C. Nell (1816-1874) was an African American activist who fought for equal rights in the mid-nineteenth century. He lived in this house at 3 Smith Court from 1851-1857. The residences on Smith Court are located in Boston's Beacon Hill neighborhood and were at the center of the city's African American community in the nineteenth century.
Images
3 Smith Court, Courtesy of Historic Buildings of Massachusetts. This is a private residence today.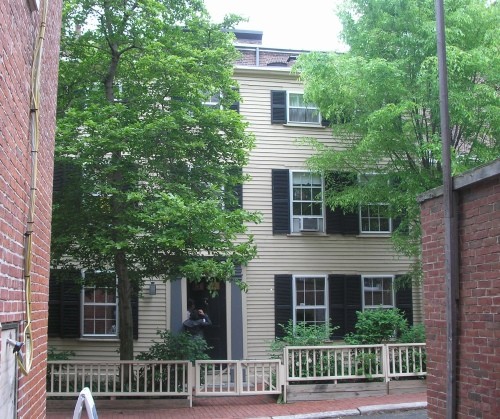 William Cooper Nell, Courtesy of the Massachusetts Historical Society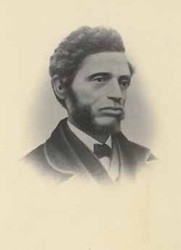 Backstory and Context
Smith Court, in Boston's Beacon Hill neighborhood, is a small enclave of homes built around the beginning of the nineteenth century. Several of the homes still stand today and comprise sites 8-12 of the Black Heritage Trail. Number 3 Smith Court was constructed in 1799 by two white bricklayers. It is known by two names; commonly as the William C. Nell House for the equal rights activist who resided there in the 1850s, and occasionally as the James Scott House, for its longest tenant.
The owners began renting the house to African-American families sometime between 1825-1830. James Scott, an African-American clothier from Virginia, moved into one of the units in 1839. He rented the home until 1865. At that time, he was able to purchase the building and lived there until his death in 1888. Scott was an ardent abolitionist and member of the Boston Vigilance Committee. While he was living in the house, he assisted fugitive slaves in their escapes. In 1851, he was actually arrested and tried for coordinating the rescue of a fugitive slave named Shadrach Minkins. However, there was not enough evidence for a conviction and he was acquitted. That same year, Scott gained a new neighbor. Historian William Cooper Nell moved into 3 Smith Court in 1851 and stayed there for six years.
Nell made his own mark as the country's first published African-American historian. In Boston, he was known as a passionate supporter of equal rights for Black children. He worked to see that students of all colors were integrated in the Boston school system and therefore had the same access to superior public education. He wrote several histories including Services of Colored Americans in the Wars of 1776 and 1812 (1851) and Colored Patriots of the American Revolution (1855). Nell also wrote for various periodicals including The Liberator, the Massachusetts Anti-Slavery Society, and the Frederick Douglass' Paper. Like Scott, he was also involved in the Boston Vigilance Committee and he assisted in the escape of fugitive slaves at 3 Smith Court.
The house itself is a "double house" or what might be known today as a two-family dwelling. There is a common entryway and two separate residential units. The front of the building has yellow painted clapboard while the back of the structure is a single, window-less brick wall.
The house at 3 Smith Court was officially designated as a National Historic Landmark and added to the National Register of Historic places in 1976. It received this honor as an acknowledgment of Nell's contributions to the equal rights movement in Boston. Today, the building is privately owned and assessed by the City of Boston as a two-family residence. In 2017, the City placed a value of $1,879,800.00 on the historic real estate.
Sources
Sites 8-12: Smith Court Residences, 3-10 Smith Court. Museum of African American History: Boston and Nantucket. Accessed February 28, 2017. http://maah.org/site8.htm.

3 Smith Court, Boston (1799). Historic Buildings of Massachusetts. April 12, 2012. Accessed February 28, 2017. http://mass.historicbuildingsct.com/?p=4384.

Smith Court Residences. National Park Service. Accessed February 28, 2017. https://www.nps.gov/boaf/learn/historyculture/smith-court-residences.htm.

Assessing On-line: Parcel ID 0300157000. City of Boston. Accessed February 28, 2017. https://www.cityofboston.gov/assessing/search/?pid=0300157000.



Additional Information