Cincinnati Fire Museum
Introduction
The Cincinnati Fire Museum opened in 1980 and is located in a restored, historic firehouse that was built ca. 1906. The Renaissance Revival-designed building was added to the National Register of Historic Places in 1974. The museum features an impressive collection that has attracted visitors from all over the world. Items include: Leather fire buckets, volunteer era parade helmets, a 1808 Fire Alarm Drum, a 1816 Hunneman Fire Engine, and the Aurora (an 1884 Ahrens Fox Steam Fire Engine). Fire safety is a big component of the museum and to this end, the Safe House exhibit teachers visitors about what to do in case of a fire emergency.
Images
The Cincinnati Fire Museum opened in 1980 in a restored ca. 1906 firehouse.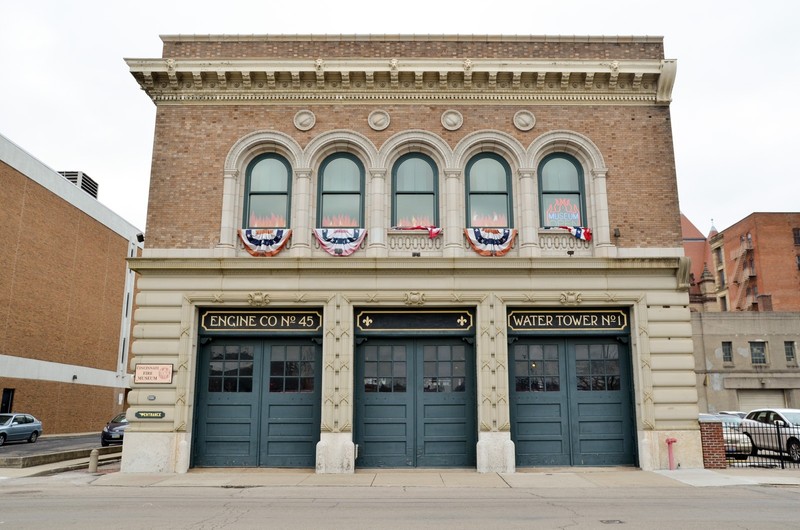 Backstory and Context
The firehouse was decommissioned in 1962 as a result of a shift in population away from the area. It was then used for storage until the museum opened in 1980.
Sources
"Our Building." Cincinnati Fire Museum. Accessed February 27, 2017. http://www.cincyfiremuseum.com/explore-the-museum/our-collection.

Photo: Brevin Couch, Cincinnati Refined
http://cincinnatirefined.com/travel/fire-museum-315-west-court-street-cincinnati

Additional Information