Hill-Stead Museum
Introduction
This Colonial Revival house was designed by Theodate Pope Riddle (1867-1946), one of the earliest registered female architects in the United States. Hill-Stead is now a museum offering visitors insight into life on an early 20th-century country estate. It retains many original furnishings and works of art, including pieces by Claude Monet, Edgar Degas, Édouard Manet, James M. Whistler, and Mary Cassatt.
Images
Hill-Stead (source: Hill-Stead Museum)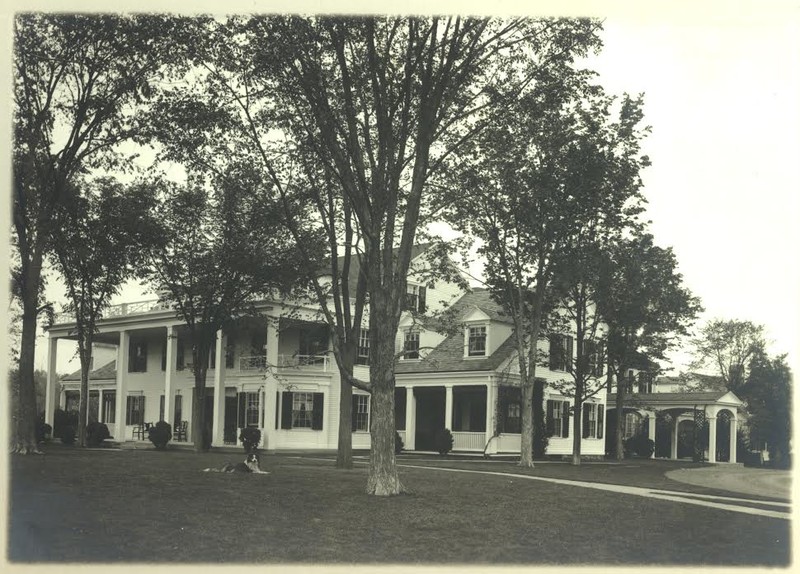 Backstory and Context
Theodate Pope, architect
Pope attended Miss Porter's School from 1886 to 1888. In her diary, she describes going on a Grand Tour with her parents and developing an interest in Architecture. Once back in the United States, she moved to Farmington, Connecticut, where she rented and later purchased a house, which she restored. Pope eventually became a licensed architect in New York and Connecticut and in 1918 joined the American Institute of Architects. Hill-Stead was her first finished project. It was constructed from 1899 to 1901, and the distinctive portico was added in 1902.

The Colonial Revival house soon made appearances in well-known architectural magazines such as Architectural Review (November 1902),The Architectural Record (August 1906), and American Homes & Gardens (February 1910). The American Homes and Gardens article, however, downplayed Pope's role in Hill-Stead's design, acknowledging only her "zealous assistance…to whom much of the interior treatment is due" (quoted in "Architecture of Hill-Stead).

Gardens
Hill-Stead's gardens include a Sunken Garden and a Walking Garden (currently overgrown). The Sunken Garden, designed for Theodate Pope's mother Ada, is octagonal and contains 36 flower beds with an overall color scheme of pinks, blues, purples, and whites. It also includes a summer house. Today, the Sunken Garden is open to the public and hosts an annual Sunken Garden Poetry Festival. The Walking Garden, also know as the "Wild" Garden, was intended as a transitional space in between the home and the surrounding fields and woods. It is not yet open to visitors.


Sources
"About Hill-Stead's Collection." Hill-Stead Museum. Accessed February 26, 2017. http://www.hillstead.org/our-collection/.

Allaback, Sarah. The First American Women Architects. Urbana: University of Illinois Press, 2008.

"The Architecture of Hill-Stead." Hill-Stead Museum. Accessed February 26, 2017. http://www.hillstead.org/about-us/architecture/.

"The Gardens at Hill-Stead." Hill-Stead Museum. Accessed February 26, 2017. http://www.hillstead.org/about-us/hill-steads-gardens/.



Additional Information