Billiards Room
Introduction
Accessed via a passage from the Entrance Hall or the Rotunda, the Billiards Room was initially conceived as a gentleman's domain. The room was initially painted in the masculine colors of Black with shades of gray and gold. In order to not disrupt other members of the household, doors to the Rotunda could be closed and the passage leading directly into the Billiards Room enabled players to come and go as they pleased. Adjoining the room is a washroom with a water-closet and double sinks. These sinks are painted to match the decoration of the walls of the Billiards Room. This is the only bathroom on the first floor.
Images
A historical photo of the Billiards Room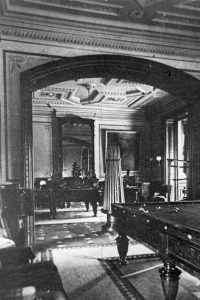 Billiards Room fireplace with bust of Charles D. Mathews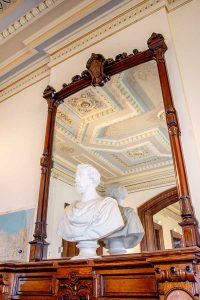 The sink of the Billiards Room washroom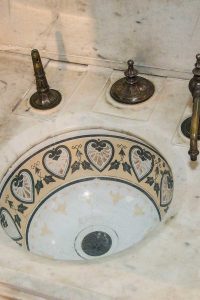 Backstory and Context
Originally, the Billiards Room contained two tables with a revolving cue rack between them. The room held a billiards table and a ping pong table during the Mathews era and this room along with the two-lane bowling alley in the basement provided entertainment for the family and their guests. The eight-pointed star ceilings are paneled patterns in decorative plaster. The woodwork was done in oak with ash panels. The mantle is made of wood, both carved and molded, which currently features a bust of Charles D. Mathews. Five different woods were used to create the parquet floor. Both the ceiling and floor were cleaned and restored in the early 2000s. Currently the Billiards Room is used for contemporary art exhibits, meeting space, and as a venue available to host a private event.
Sources
Billiards Room, The Lockwood-Mathews Mansion Museum. Accessed April 22nd 2020. https://www.lockwoodmathewsmansion.com/billiards-room/.
Image Sources
The Lockwood-Mathews Mansion Museum's Permanent Collection

Sarah Grote Photography, 2016

Sarah Grote Photography, 2016

Additional Information