Philip Johnson Glass House
Introduction
Completed in 1949, the Glass House was designed and frequently inhabited by architect Philip Johnson. The building is made of glass and steel, featuring an open plan, large doors on all four sides, and simple furniture and decor. As its name suggests, its glass walls let in ample natural light and allow visitors to enjoy views of the landscape on all sides. Over the years, Johnson's estate grew to over 40 acres, hosting not only the Glass House, but also a Brick House, library, and art galleries. Johnson is known not only for his modernist architecture, but also for his attraction to fascism during the 1930s. He retracted his support of Hitler in the 1940s and designed a synagogue for a Jewish congregation in New York in the 1950s.
Images
Philip Johnson designed this home in 1949. (image source: Library of Congress)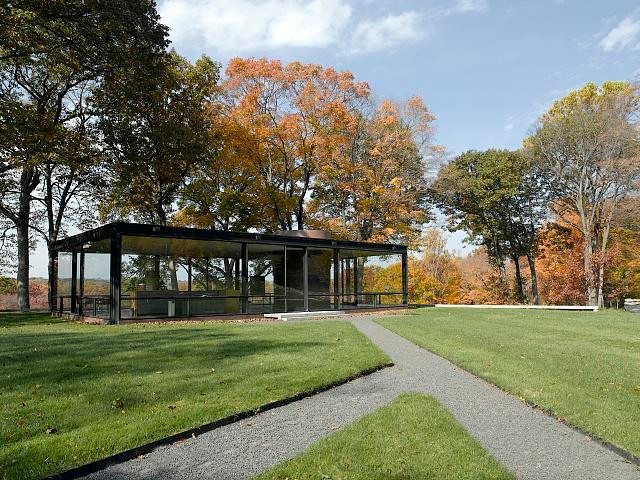 Backstory and Context
Philip Johnson (1906-2005) had considerable influence on architecture during the 20th century. After graduating from Harvard, he was appointed director of the Architecture Department at the Museum of Modern Art. While there, he co-curated its 1932 show, "The International Style: Architecture Since 1922," which showcased a number of European designers such as Walter Gropius and Le Corbusier. Returning to Harvard in the 1940s, Johnson studied under Marcel Breuer. He then began work on his Glass House and numerous other buildings, including:

- Seagram Building, Manhattan, co-designed with Mies van der Rohe.
- AT&T Building (now Sony Tower), Manhattan, co-designed with John Burgee
- Lipstick Building, Manhattan, co-designed with Burgee
- Crystal Cathedral, Garden Grove, CA, commissioned by televangelist Robert H. Schuller
- Amon Carter Museum, Fort Worth, TX
- PPG Place, Pittsburgh, PA, co-designed with Burgee
Johnson won the Pritzker Architecture Prize in 1979.

Johnson's personal life and political views have garnered about as much attention as his professional accomplishments. As Marc Wortman writes, "Articulate and passionate about anything modern, new, artful, and monumental, Johnson was stunningly creative, socially incandescent, and passionately opinionated on all matters of taste. He had a coruscating, arrogant wit, and relished table talk and wicked gossip about art and ideas and the people who made them."

Raised with wealth, Johnson spent many summers in Europe and quickly made connections in the high-end art world. He admired ancient and 19th-century German philosophy, particularly the work of Friedrich Nietzsche.

In 1932, Johnson attended a Hitler Youth rally in Potsdam, Germany. Many years later, he reflected on the experience: "You simply could not fail to be caught up in the excitement of it, by the marching songs, by the crescendo and climax of the whole thing, as Hitler came on at last to harangue the crowd" (quoted in Marc Wortman). Johnson was thus energized by a new interest in politics, viewing fascism and Nazism as the political counterparts to modernist architecture.
Johnson was an anti-Semite and was not bothered by the Nazi's persecution of Jews during the 1930s. Even when Nazis moved to persecute homosexuals (Johnson was gay) or attacked the Bauhaus school (of which Johnson was a fan), he remained optimistic about Nazism's potential for social progress.

In 1939, Johnson returned to the US. Soon afterward, he was featured in a Harper's Magazine piece about American Nazis. His support of the Nazi regime led to the FBI designating him as a person of interest. FBI investigators investigated his activities and drafted a report that documented his connections with Nazi party members in Germany and his collection of Nazi literature, which included Joseph Goebbels' Signale der Neuen Zeit and Theodor Fritsch's Handbuch der Judenfrage.

Similar to other Americans who initially reported interest in learning more about Hitler's fascist regime, Johnson disassociated himself with Hitler's regime in the 1940s as America went to war and as the worst parts of Hitler's regime came to light. Johnson returned to school, attending Harvard's Graduate School of Design. Following his time at Harvard, he designed a number of other prominent buildings including this house. In 1956, he designed a synagogue in Port Chester, New York free of charge. This act was important to Johnson and interpreted by many as an act of atonement for his initial support of Hitler's regime.

Sources
"Biography." Pritzker Architecture Prize. Accessed February 24, 2017. http://www.pritzkerprize.com/biography-philip-johnson.

Brown, Lydia, and Lucy Nalpathanchil. "Inside The Glass House And Philip Johnson's Controversial Life." WNPR. July 29, 2016. Accessed February 24, 2017. http://wnpr.org/post/inside-glass-house-and-philip-johnsons-controversial-life..

Geva, Anat. "An Architect Asks For Forgiveness: Philip Johnson's Port Chester Synagogue." Forum for Architecture, Culture, and Spirituality, June 2014. http://www.acsforum.org/symposium2014/papers/GEVA.pdf.

"Glass House." LIFE. September 26, 1949, 94-96.

"Glass House Chronology." The Glass House. Accessed February 24, 2017. http://theglasshouse.org/learn/glass-house-chronology/.

Lewis, Hilary. "Philip Johnson: On Old Age." The Glass House. 2016. Accessed February 24, 2017. http://theglasshouse.org/learn/philip-johnson-on-old-age/.

Mason, Christopher. "Behind the Glass Wall." New York Times, June 07, 2007. http://www.nytimes.com/2007/06/07/garden/07glass.html?ref=philip_johnson.

"Philip Johnson." The Glass House. Accessed February 24, 2017. http://theglasshouse.org/learn/philip-johnson/.

Saint, Andrew. "Obituary: Philip Johnson." The Guardian, January 29, 2005. https://www.theguardian.com/news/2005/jan/29/guardianobituaries.artsobituaries1.

Stamp, Elizabeth. "Get to Know Philip Johnson's Iconic Architecture." Architectural Digest. May 12, 2016. http://www.architecturaldigest.com/gallery/philip-johnson-architecture-buildings.

Stern, Mark J. "The Glass House as Gay Space: Exploring the Intersection of Homosexuality and Architecture." Inquiries Journal 4 (2012). http://www.inquiriesjournal.com/articles/651/the-glass-house-as-gay-space-exploring-the-intersection....

Tutter, Adele. Dream House: An Intimate Portrait of the Philip Johnson Glass House. University of Virginia Press, 2016.

Wortman, Marc. "Famed Architect Philip Johnson's Hidden Nazi Past." Vanity Fair. Vanity Fair, April 04, 2016. http://www.vanityfair.com/culture/2016/04/philip-johnson-nazi-architect-marc-wortman.



Additional Information