Center for the Performing Arts
Introduction
The Performing Arts Center in the Empire State Plaza is instantly recognizable because of its unique shape. Universally known as "The Egg" it stands out as the only smooth, round edifice on the plaza otherwise composed largely of imposing angular structures. Building started on the Egg in 1966 and it was completed twelve years later in 1978. It contains two theaters that showcase a variety of performances throughout the year.
Images
The Egg, as seen from the Empire State Plaza.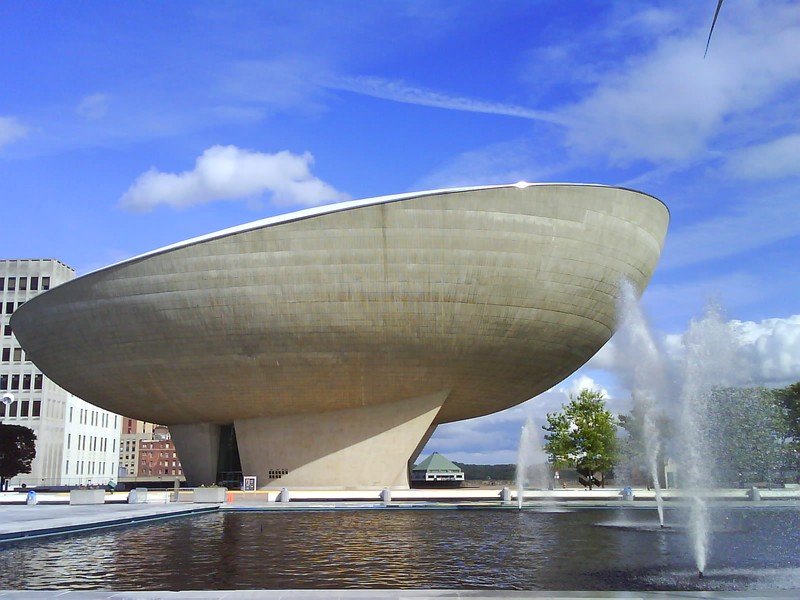 During the construction process.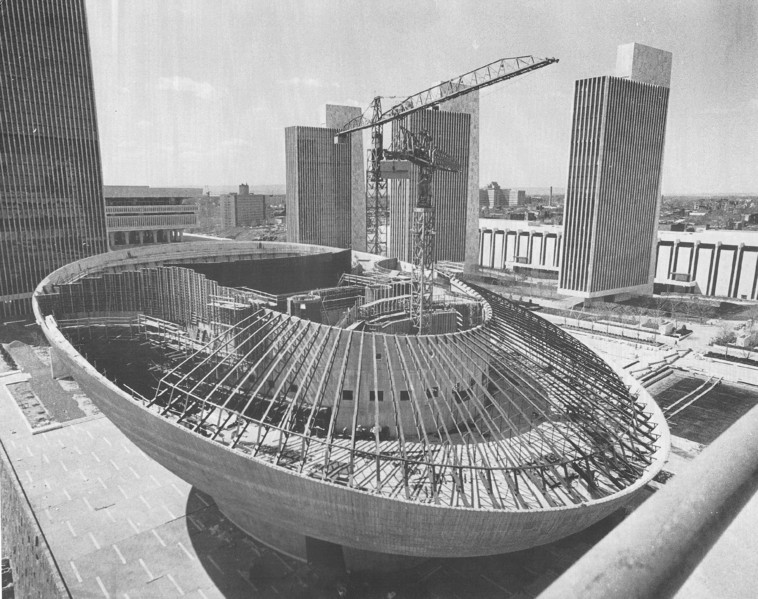 Backstory and Context
Princess Beatrix of the Netherlands came to visit Albany in 1959 to commemorate 350 years since Henry Hudson's arrival voyage in 1609. At the time Governor Nelson Rockefeller was allegedly embarrassed by how shabby downtown Albany looked. He decided to construct a new set of buildings that would serve the people of New York. Arguably, The Egg is the most striking building to emerge from that project.
Rockefeller played a dominant role in the design of the Plaza working directly with architect Wallace Harrison. The story goes that Rockefeller was eating his breakfast while they discussed the need for a building that would break up the lines of the planned office blocks. He put his coffee cup on top of his half grapefruit and suggested that the new building take that shape. Initially planned to hold meeting space it soon changed use to become a theater.
The stem of the Egg goes six stories deep into the earth below it. There is a reinforced concrete beam girdle that supports the bulk of the structure. Estimates of the cost to build it range from $90 Million to $100 Million. Inside it contains two performing arts spaces, the 450 seat Lewis A. Swyer Theatre and the 982 seat Kitty Carlisle Heart Theatre.
Sources
History & Architecture. The Egg. Accessed February 22, 2017. http://www.theegg.org/about/historyarchitecture.


Cracking Open the Origins of the Egg. All Over Albany. April 11, 2008. Accessed February 22, 2017. http://alloveralbany.com/archive/2008/04/11/cracking-open-the-origins-of-the-egg.

Photo of the Egg: https://commons.wikimedia.org/wiki/File:The_Egg.JPG
Photo of the construction: https://commons.wikimedia.org/wiki/File:Egg_Under_Construction.png