Trinity Episcopal Church
Introduction
Trinity Episcopal Church dates back to the establishment of a congregation by missionaries in 1841. The church building was completed in 1871 and is listed on the National Register of Historic Places.
Images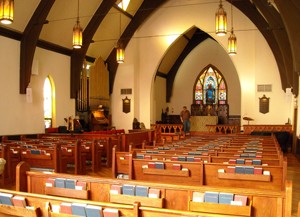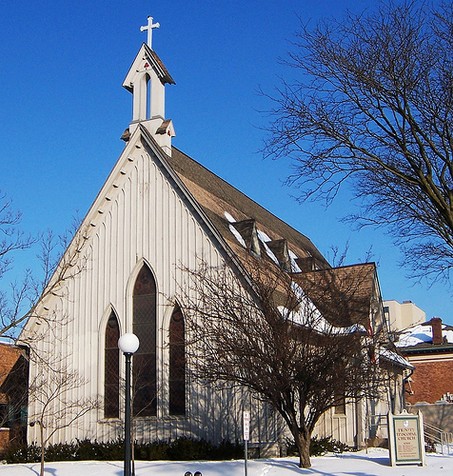 Backstory and Context
Trinity Church traces its roots to the missionary activities of Reverend Jackson Kemper, a missionary, who first visited the area on July 10, 1841. He continued his visits until the parish was formed on August 7, 1853. The first rector of the church, the Rev. Willis H. Barris, came to Trinity on October 15, 1855. The parish had no regular meeting place until 1862 when it purchased the Athenaeum, which was used by the congregation until the present church was completed on October 1, 1871. [2] The Athenaeum building was later sold to St. Patrick's Catholic Church in 1873. [3]
The present church building was built on property purchased from Samuel and Sarah Ballard in 1868. The design for the church is attributed to Richard Upjohn, but there is some evidence that it resembles a drawing by Bishop Randall of Colorado that was published in The Spirit of Missions in May 1867. [2] The church is a wood structure in the Gothic Revival style. While the sanctuary remains similar to the day it was built, additions for educational facilities and a parish hall have been added over the years.
Sources
1. National Park Service. "National Register Information System." National Register of Historical Places. National Parks Service.
2. "History." www.trinityic.org.
3."Parish History" www.stpatsic.com
Additional Information