Woodruff Place Historic District
Introduction
Woodruff Place is Indianapolis's first suburban neighborhood. It was also one of the city's most fashionable neighborhoods in the Victorian Era. The neighborhood was planned as a residential park, characterized by wide streets and spacious lots.
Images
Statuary and fountains in Woodruff Place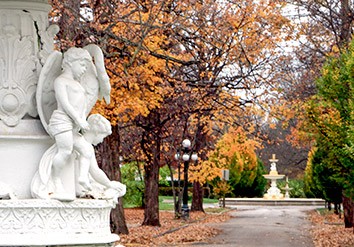 A Victorian home in Woodruff Place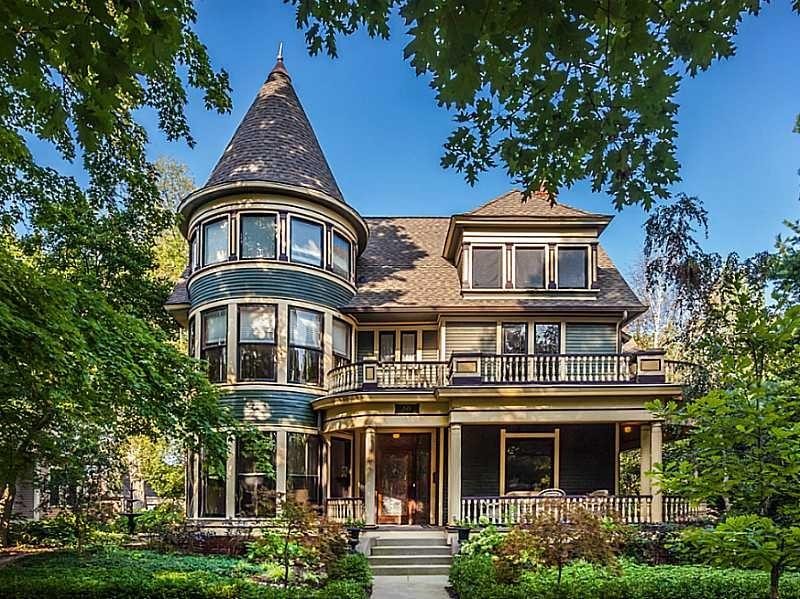 Backstory and Context
In 1870, James Woodruff, an engineer from New York, moved to Indianapolis to help complete construction of the waterworks. Woodruff liked the quiet wooded area east of the city and purchased 77 acres. There, he began to develop his plan for residential park in 1873, to be built around the idea of Italian Renaissance gardens. Woodruff had three wide streets built, along with wide esplanades featuring fountains, gardens, and sculptures. Woodruff began construction of his own home on West Drive.

Many Indianapolis businesses suffered or collapsed during the economic panic of 1873, including James Woodruff. He was forced into bankruptcy and was unable to finish the construction of his home. A few years later, in 1876, however, a handful of investors were able to complete Woodruff's vision, and Woodruff Place was incorporated as a small town. After a period of slow growth, the neighborhood went through a boom in the 1890s.

Woodruff Place consists of a variety of architectural styles, with many of the most historically significant homes built between 1875 and 1917 in the Victorian style. There are also Queen Anne, Georgian Revival, English Tudor, American Foursquare, and Bungalow homes in the district.

The neighborhood experienced a period of decline during World War I and the Great Depression, when many of the grand old homes were divided into apartments to supplement their owners' incomes. In the 1960s and 1970s, however, a renewed interest in preservation brought new attention to Woodruff Place.

Woodruff Place was added to the National Register of Historic Places in 1972.


Sources
Perkins, V.F. (August 2000). "The Magnificent Ambersons (book review)"
.
University of Nottingham
. Retrieved 2017-02-21
.
Woodruff Place in Indianapolis, Indiana can't be found on a tourist map, but it would probably interest anyone who is familiar with Orson Welles's adaptation of Booth Tarkington's The Magnificent Ambersons."


"Historic Districts"
. City of
Indianapolis
. Retrieved 2017-02-21
.
Woodruff Place was the city's first "suburb" and was the setting for Booth Tarkington's Pulitzer Prize winning novel, The Magnificent Ambersons."



Additional Information