Johan Despa House and Lockerbie Square Historic District
Introduction
Built in 1863, the Johan Despa House is among a number of historic homes within Lockerbie Square, the oldest surviving residential neighborhood in Indianapolis. Many immigrants, settled in this area of the city, particularly Scottish, Scots-Irish, and German settlers. The neighborhood takes its name from Lockerbie Street, which was named for the Lockerbie family.
Images
The Despa House was built in 1863 and recently remodeled.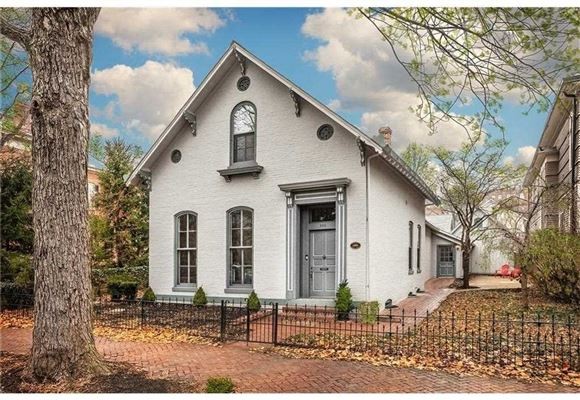 Homes in Lockerbie Square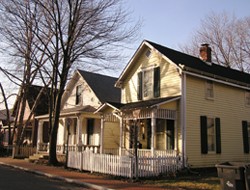 Backstory and Context
When the city of Indianapolis was laid out, its founders sold excess land to developers for the development of residential areas. A Scottish family, the McQuats, purchased land to the northeast of Mile Square, and named it for their homeland, Lockerbie, Scotland. Initially, most of the families who made homes in Lockerbie Square were Scottish or Scots-Irish. By the mid-1800s, a number of German immigrants began settling in the district, enough that the area was regularly referred to as "Germantown."

As was the case with a number of Indianapolis neighborhoods, Lockerbie Square was a mixture of both working-class and more prosperous families. The district peaked in the late 1800s and early 1900s. By World War I, however, industries began to encroach on the neighborhood, and few new homes were built after 1910. By the time of World War II, the neighborhood was in a state of decline, with many of the homes used as boarding houses.

By the 1960s, however, there was a growing interest in preservation and efforts were made to save Lockerbie Square. In 1973, the neighborhood was included on the National Register of Historic Places. Lockerbie Street was replaced with cobblestones and Victorian street lamps were placed along the sidewalks.

Among the most historically significant homes in the district is the former residence of writer James Whitcomb Riley at 528 East Lockerbie Street. Riley lived in the home for 23 years.
The first residence in the neighborhood was the home of the McQuats, at 527 East Lockerbie Street. The home was originally constructed in the Greek Revival style, but was later given Victorian Era additions in the form of an over-sized gable and a porch. The Athenaeum (formerly known as Das Duetsche House) is adjacent to the north east boundary of Lockerbie Square, at 407 East Michigan Street.





Sources
Lockerbie Square Historic District. National Park Service. Accessed February 23, 2017. www.nps.gov/nr/travel/indianapolis/lockerbiesquare.htm.

Lockerbie Square. Historic Urban Neighborhoods of Indianapolis. Accessed February 23, 2017. http://www.huniindy.org/index.php/locker/.


Additional Information