Lost Creek Railroad Depot
Introduction
Built in 1892, the Lost Creek Railroad Depot is a historical railroad depot located in Lost Creek, West Virginia. It was build by the Baltimore and Ohio Railroad, which is also known as the B&O Railroad. The building is known for being a Folk Victorian frame structure with board and batten siding. In 1923, this particular depot was known for being the largest cattle shipping point east of the Mississippi River. The property was erected by the Lost Creek Community Organizations and the West Virginia Department of Archives and History in 1996.
Images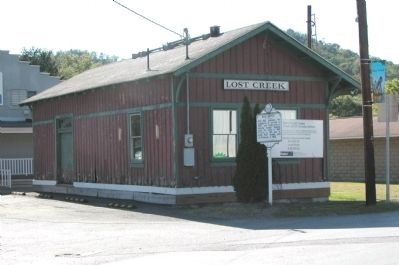 The B&O Depot was built in 1892 and its renovation was completed in 2005.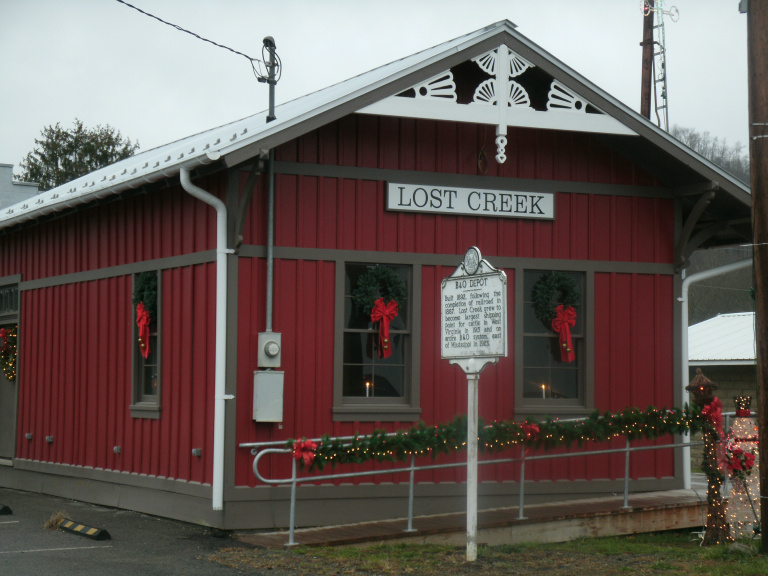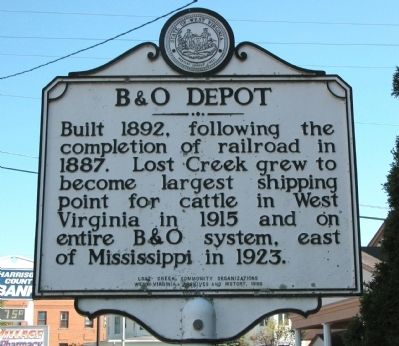 Backstory and Context
   In 1915 the Lost Creek Railroad Depot was the largest shipping point for cattle in West Virginia. In the 1930's, West Virginia was one of the largest beef cattle producing states. 
   In 1892, construction was finished in 1895. It was recognized in the years of 1892 through 1955 to be the most significant under Criterion A for transportation. The B&O is the oldest railroad in Harrison County, and construction of the railroad was completed in 1878. 
   The main line of the B&O runs through Lost Creek and was used for local businesses and stock yards. The Lost Creek B&O railroad depot also helped brought up the glass and coal mining industries in Harrison County. 
Sources
B&O Depot. The Historical Marker Database. Accessed February 20, 2017. http://www.hmdb.org/marker.asp?marker=35331.
Libraries, WVU. "Train Station, Lost Creek, W. Va." Train Station, Lost Creek, W. Va. - West Virginia History OnView | WVU Libraries, wvhistoryonview.org/catalog/wvulibraries:69592. Accessed 31 Aug. 2017.
Powers, Jolynn. The Lost Creek, West Virginia Depot Restoration is Complete 2015. West Virginia Mountain Mama. December 16, 2015. Accessed March 05, 2017. https://jolynnsmountainmama.wordpress.com/2015/12/16/the-lost-creek-west-Virginia-depot-restoration-....
Image Sources
"B & O Depot." The Historical Marker Database. Accessed September 22, 2020. https://www.hmdb.org/m.asp?m=35331.

Additional Information