Saint Philip's Episcopal Church
Introduction
This historic church has had seven different political parties worship here since 1741. These flags are shown in in the chapel: England, Spain, Grand Union, North Carolina, Betsy Ross, Confederate States of America, and United States of America. This church was built to replace the orignial St. Philip's Church that was build in Brunswick Town in 1754.
Images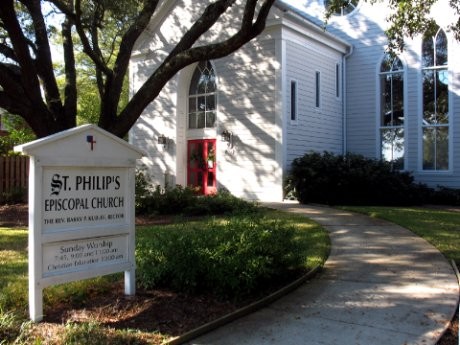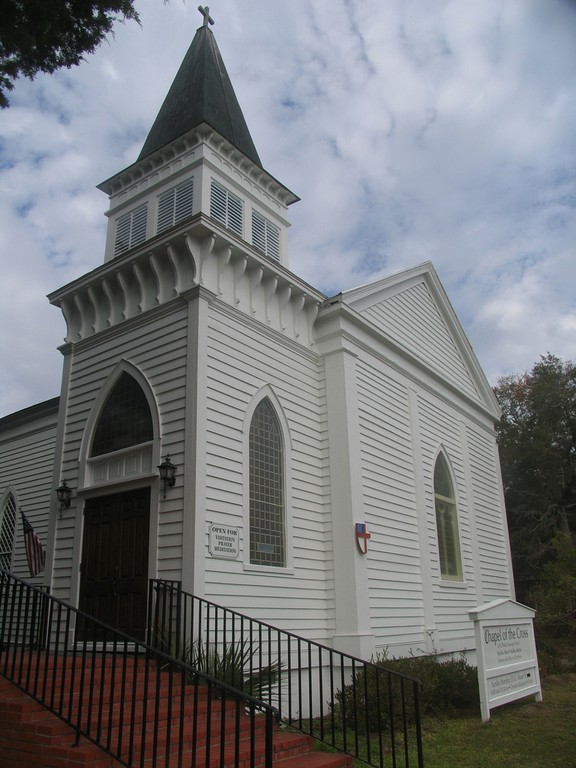 Backstory and Context
St. Philip's Parish was created for Port Brunswick in 1741. In 1748, Spanish pirates attacked and captured the Port of Brunswick and occupied it for several days. Then in 1768 Royal Governor Arthur Dobbs had St. Philip's Church designated as His Majesty's Chapel and served the people of the town of Brunswick well. However, in 1776 it was destroyed by fire during the American Revolution by the British. These church remains are still at the original site, about 10 miles north of Southport. Nonetheless, the original alter rail is said to be in the new Chapel of the Cross.
St. Philip's Episcopal Church, also known as The Chapel of the Cross at St. Philip's Church, was built in 1843 in request of the commander of Fort Johnston, Colonel Thomas Childs. He wanted a church to serve the fort, so his soldiers were used to construct the church. The church, being right across the street from the fort, served as the residence for the Commander of The Military Ocean Terminal at Sunny Point.
After Confederate Troops cleared out Fort Johnson in early 1865, the church was taken and used by Union forces, but not only as a church. They used it for a hospital for the wounded troops, and later by African American children as their school house. The church atmosphere started coming back strong in the year 1876 when Colonel A.C.M Pennington was stationed at Fort Johnston. Him and his troops brought in a new communion table, alms basin, and lectern into the church, as well as a fence around the outside.
In the early 2000s, church officials and the citizens of Southport hired Heimsath Architects, one of the country's top church architectural firms, to expand the church grounds even further. They are included a new worship that can seat 250-300 people, another bell tower, a large parish hall, plus more educational and office space. In honor of its original name, the old church was renamed "Chapel of the Cross at St. Philip's."
Sources
Saint Philip's Episcopal Church. Accessed February 16, 2017. http://www.stphilipschurch.org/.

St. Philip's Episcopal Church. The Episcopal Church. Accessed February 22, 2017. http://www.episcopalchurch.org/parish/st-philips-episcopal-church-southport-nc.

Photo Credits: www.google.com