Cumberland County Confederate Monument
Introduction
This white marble monument, erected in 1868, is the oldest Confederate monument in North Carolina. Its design is simple: a white columnn with a cross on top and an inscription on the base. It stands in Cross Creek Cemetery, in memory of the Confederate dead. Construction of the monument was funded by a group of local women, who held a quilt raffle to raise $300. This structure represents North Carolina women's early efforts to commemorate the Confederacy, to ensure that their values were preserved despite losing the Civil War, and to assert their status as "good" women--loyal, virtuous, and white.
Images
North Carolina's oldest Confederate monument (source: War Days in Fayetteville, p. 4)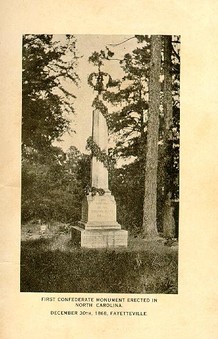 Backstory and Context
The monument inscription reads:

"Nor shall your glory be forgot, / While Fame her record keeps, / Or honor points the hallowed spot / Where valor proudly sleeps." /

"On Fames eternal camping ground / Their silent Tents are spread. / Rest on embalmed & sainted dead / Dear as the blood ye gave." /

WOMAN'S / record / to the / HEROES / in the dust /

IN / MEMORY / OF THE / CONFEDERATE / DEAD



Sources
"Cumberland County Confederate Monument, Fayetteville." Commemorative Landscapes. Accessed February 19, 2017. http://docsouth.unc.edu/commland/monument/12/.

J.E.B. Stuart Chapter, United Daughters of the Confederacy. War Days in Fayetteville, North Carolina: Reminiscences of 1861 to 1865. Fayetteville, NC: Judge Printing Company, 1910. http://docsouth.unc.edu/fpn/chapter/chapter.html. © This work is the property of the University of North Carolina at Chapel Hill. It may be used freely by individuals for research, teaching and personal use as long as this statement of availability is included in the text.

"North Carolina Civil War Monuments Survey." North Carolina Civil War Monuments. Accessed February 19, 2017. http://ncmonuments.ncdcr.gov/.

Vincent, Tom. "Evidence of Womans Loyalty, Perseverance, and Fidelity': Confederate Soldiers' Monuments in North Carolina, 1865-1914." North Carolina Historical Review, vol. 83 (2006): 61-90.



Additional Information