Hawk's Nest Overlook, West Virginia
Introduction
Hawk's Nest Overlook was built during the Great Depression as part of the Civilian Conservation Corps (CCC) construction projects. Chief Justice John Marshall explored this section of Virginia (now West Virginia) in 1812 and was so impressed by the view of the New River valley that this area was often referred to as "Marshall's Pillar." During the 1930s, young men were employed by the CCC to create what is now Hawks Nest State Park. The area is best-known for another construction project, the creation of a tunnel with hydroelectric equipment that generated power as the water of the New River travelled through Gauley Mountain. The government failed to provide protective equipment for the workforce, composed mostly of African American laborers. A Congressional investigation ruled that the failure to provide protective equipment led to the deaths of 476 men whose inhaled silica rock dust while they built the tunnel. Today, Hawks Nest offers a variety of outdoor recreation opportunities, historic markers, and a hotel and gift shop.
Images
Civil War map of the area of operations.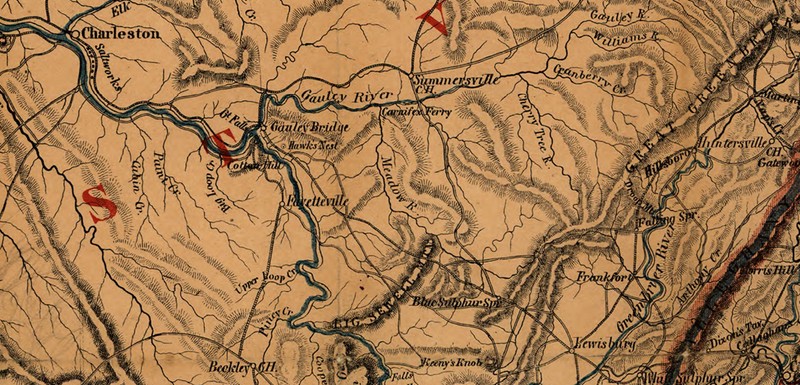 Drawing rendering the battle that occurred in the Hawk's Nest area.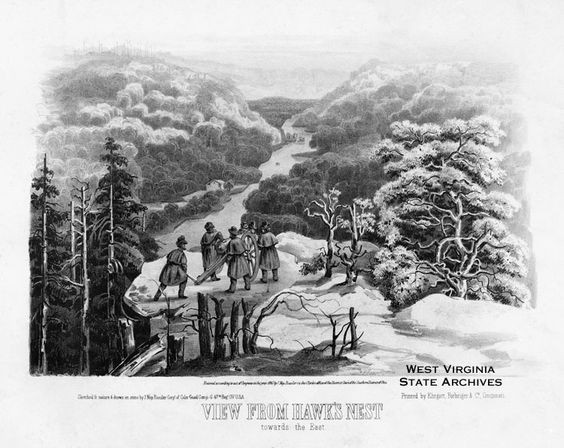 View from Sewell Mountain overlooking the location of one battle in the area.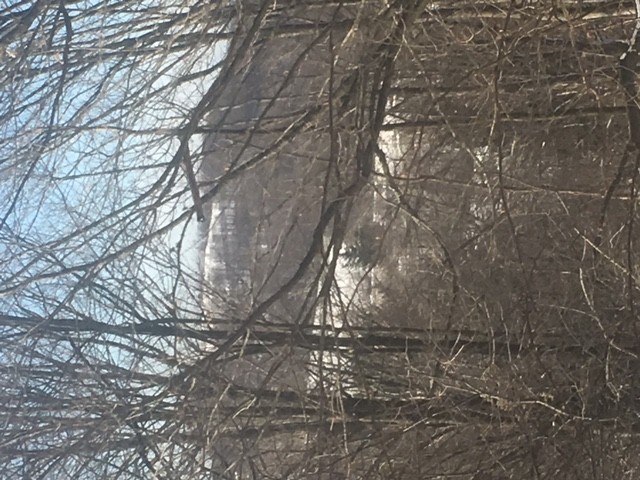 Backstory and Context
Civil War Battles Near Hawk's Nest

After the Battle of Monassass, the Northeast was secure for the Confederate Army allowing General Robert E. Lee turn his attention to the Allegheny region. Lee's left army operating in the area was commanded by General Floyd and General Wise. Skirmishes broke out in August, 1861 the area at Hawks Nest and later at Pigott's Mills. The operations conducted in the vicinity were in preparation to take Gauley.

In the Trans-Allegheny region, General Robert E. Lee pursued a campaign to control the Gauley River and the surrounding region. This area was valuable because the Gauley River was one of the main routes for the transport of commerce and supply into West Virginia. General Lee split his army into two wings, the right wing being controlled by General Loring at Summersville, and the left wing which was controlled by General Floyd and under him, General Wise which held camp near Hawk's Nest. At their encampment on the mountainside, the Confederate troops suffered from lacking proper food and shelter. Due to the torrential downpour that lasted for several weeks, there was an outbreak of fever and measles within the troops.
On July 10th, 1861, Colonel Davis who was occupying an advance location at Meadow Bluff spotted Union troops to his front. After reporting this information, Floyd advanced to the location immediately. It was not until July 14th that Floyd ordered Wise to move to his location, but Wise was sluggish in his response because he was lacking half the wagons he needed, his horses didn't have shoes, and he was facing command problems in his troops. Whenever Wise sent troops, he sent 2,000 men to occupy Big Sewell Mountain. Floyd then took up a position at Summersville where his forces could flank General Cox at Gauley or General Rosecrans if he attempted to move down from the north. General Cox was seen as a serious threat because he overinflated the size of his force even though he only had an Ohio regiment under Colonel Tyler.
August 20th, near Hawk's Nest, Lieutenant Colonel Craghan was involved in two skirmishes on that resulted in a few killed and wounded on both sides. Later, August 25th at Pigott's Mill, Colonel Jenkins and his cavalry suffered defeat due to an infantry ambush leaving eight to ten wounded on each side. The next day, August 26th Floyd managed to cross the Gauley River at Canafax Ferry and surprise Tyler's forces early in the morning for a decisive Confederate victory. The defeat of Colonel Tyler forced General Rosecrans to move to Gauley, pushing General Cox and his forces towards Floyd's position. The maneuvers that took place set the battlefield for the control of Gauley.
It was September 2nd that General Wise moved on the Union position at Hawk's Nest. Colonel Anderson began by attempting to take the rear of the small mountain that the Union forces occupied by holding positions along the base. In an attempt to take the position, companies of Summers, Ryan, and Jane crossed Big Creek and climbed the hill to take control of the summit. The Confederates used a Howitzer from another mountain to clear the enemy off the location, but abandoned the hill whenever a Union rifled cannon began firing on their position. After abandoning the Confederate position, they took up positions that oversaw Miller's Ferry and Liken's Mill.
Sources
Evans, Clement A. Confederate Military History. Vol. II. Atlanta, Georgia. Confederate Publishing Company, 1899.

Johnson, Clint. Touring Virginia and West Virginia's Civil War Sites. Edition 2. Winston-Salem, NC. John F. Blair Publisher, 1953.

Nicholson, W. L. Map of the State of Virginia. [S.l., Lith. by Chas. G. Krebs, 1864] Map. Retrieved from the Library of Congress, https://www.loc.gov/item/99448881/. (Accessed February 20, 2017.)

Davis, William C., James I. Robertson, and Studies Virginia Center for Civil War. Virginia At War, 1861. Lexington: The University Press of Kentucky, 2005. eBook Collection (EBSCOhost). Web. 20 Feb. 2017.

Roesler, J. View From Hawk's Nest. Accessed March 20, 2017. http://www.wvculture.org/history.